There are many new cam sites popping up every year. Many of your favorite cam girls may have moved to broadcast with these new video chat sites especially new sites that offer better pay to attract models. Crypto payment cam sites are sprouting, from purely crypto payment to existing cam sites accepting more and more different cryptocurrencies to buy tokens. They recognized that there is a need for discreet payments and they don't want to miss out. VR cam is another area to expand.
Below is a list of cam sites ordered by their launch date or domain's registration date. I know this is far from the full list of cam chat sites on the internet. Many of them are not new in the sense of launching this new year, particularly a lot of them have been abandoned and picked up by someone else to be a new porn chat site. Just see how many you know of.
New cam sites 2021/2022
❌ Site is dead, or just a white label, not recommended.
👌 It's ok.
👍 Best cam, trustworthy, or emerging cam chat sites.
Many sites have started and got abandoned already. But there are more under development, sugarbounce.com is one example.
Sugarbounce.com
Sugarbounce adopts the principle of blockchain and NFTs to allow customers to pay in crypto for privacy. Models can receive their hard-earned money with crypto to avoid the rampant situation of payment processors refusing to handle adult-related transactions or the excessive fees involved during money transfers. NFTs also allow models to create content and be sold in a controlled way. No more stolen content.
Cherry.tv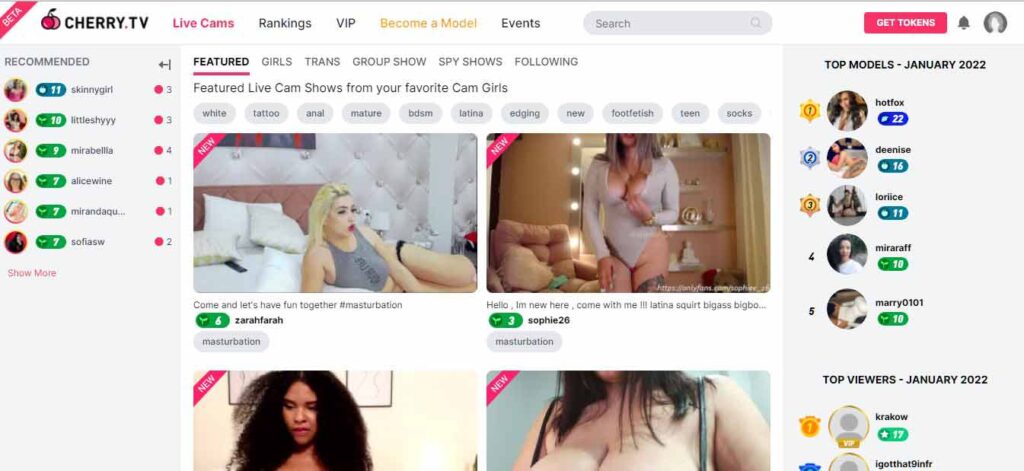 Cherry.tv is a modern-looking cam site. It has a level system which not just customers are categorized, models are put into different levels too. Many cam sites tend to put the customers into different levels, thus different status in front of the model, to encourage them to spend. In Cherry.tv, it applies to the models too. The more engaging and persistently performed models get promoted to a higher level. The concept is similar to cam score but most of the time a score of 325 vs 1276 means not very much to everyone. The level number is much easier to understand, 1 is for the beginner and it is up to you to climb up the level system. As a customer, if you want an enjoyable show you may want to go for models with a higher level. But if you are looking for a fresh face or a new cam girl, then you may want to find someone that is still on a lower level. Does it make sense?
Cam sites launched between 2011 – 2020
Most of the current big cams are established during these 10 years. Bongacams, Chaturbate, Stripchat, Jerkmate, and Camsoda are the ones that survive and grow. Whereas VR site like CammingVR has never made it to the stage to be live. Lots of cam sites come and go (sorry for the pun!) and turn into the white labels of the survivors in the end.
---
Cam sites launched between 2001 – 2010
---
Cam sites launched before 2000
Conclusion
We all hope new cam sites have more modern designs, more features for the models to interact with you, and attract new faces and new models to chat with. If you know of any new adult webcam chat sites or you are the owner of a new cam site, do drop me a message and I will include it here.