ok… I like men, and I like girls too.  I like cute girls most.  Where to find cute girls? Japanese girls are always my favorite, especially before k-pop idols.  🙂
Where to find Japanese cam girls?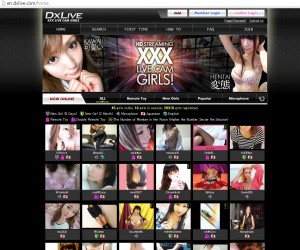 Answer is: Dxlive.  Or Sakuralive when they think sakura reminds people of Japan.  Yes, Dxlive is a Japanese based company.  99% of the models are Japanese and a handful of Blonde models for variety. You know how it is.  Some Japanese men prefer western girls too.  They focus on the main topic but give customers other choices too.
Most of these kawaii (Japanese for "cute") Hentai girls have that submissive look which is what excites me a lot of the time.  When you look at them, it feels like they will do anything for you.
they will suck your cock elegantly while looking up at you with those big eyes.
you may ask them to drink up every single drop of your cum, or
cum in her mouth first and ask her to spit it out on her palms and play with the cum afterwards, before she swallows the whole lot later.
mm.. I love submissive girls.  :))
Best Feature – remote-controlled toys
Back to Dxlive, at 11p.m. EDT there were about 40 girls online and half of them have remote controlled toys.  These are special remote controlled toys which let viewers to take control. The fun of course is to turn the toy on and watch her turn on too.  If you are a control freak you will always enjoy turning it a bit higher than she likes and watch her groan and moan and wriggle.  Unlike western girls you won't hear them shout "Fuck!".  They just squirm with an expression of begging you to stop.  Some of the girls even have double remote controlled toys so you can use the toys both in her pussy and ass.  There are special icons for single or double remote-controlled toys so you can easily find girls with these facilities.  How lovely!
How to join?
Unlike Bongacams, joining Dxlive is not free unfortunately.  Basically you have to buy "points" (other sites called it credits or tokens).  It's about $2 per point, you have to buy 20 points minimum.
But if you go to SakuraLive instead, as they are pushing this brand so you can get a discount.  You pay only $2.95 to get 10 points (which normally costs you $20)  One minute chat costs you 1 to 2 points depends on model's rate so 10 points will get you at least 5 minutes chat.)  So, if you have never joined either site then Sakura will be a cheap and low entry cost start.
Your points do expire but they are talking about you have to spend at least 0.1 point in 6 months which is very reasonable.

You can join SakuraLive here while there is discount.
Highlights:
In Sep 2015, Flirt4free partnered with the interactive teledildonic toys company Kiiroo to allow models and viewers to both send and receive intimate moments through the toys.  <Read more>
If you like Asian girls, particularly Filipinas, you may find them at Asianbabecams.  See Asianbabecam's review here.  Or you may click the button below to see it yourself!