My Quick Check of FC2 Live Adult
FC2 Live is a Japanese-based broadcasting platform for people to host a program or one-to-one chatting originally. Needless to say, even it was intended for general purpose, a separate "Adult" section was quickly introduced. Click the button below and go straight to the FC2 adult section.
FC2ライブ (FC2 Live) or FC2 アダルト (FC2 Adult) seems to get popular around 2013 though I really haven't heard about it before.
Unlike many other Japanese sites, FC2Live supports many different languages and English is pretty well covered.
Is FC2Live Adult really live?
I am as confused as you to be honest.  When you arrive at the site, at the top it shows "On Air!", "Live Recordings", and "Ranking".
I went into the "On Air!" section and found plenty of Japanese girls. But when I clicked through to their rooms, some of them look just like typical porn videos. (yes, I am a girl and I also watched plenty of porn).   It is really difficult to tell, especially since the site allows people to save their broadcast as recordings and sell it there.  And when the girls do not reply to any of the comments that the guys made then how can you tell?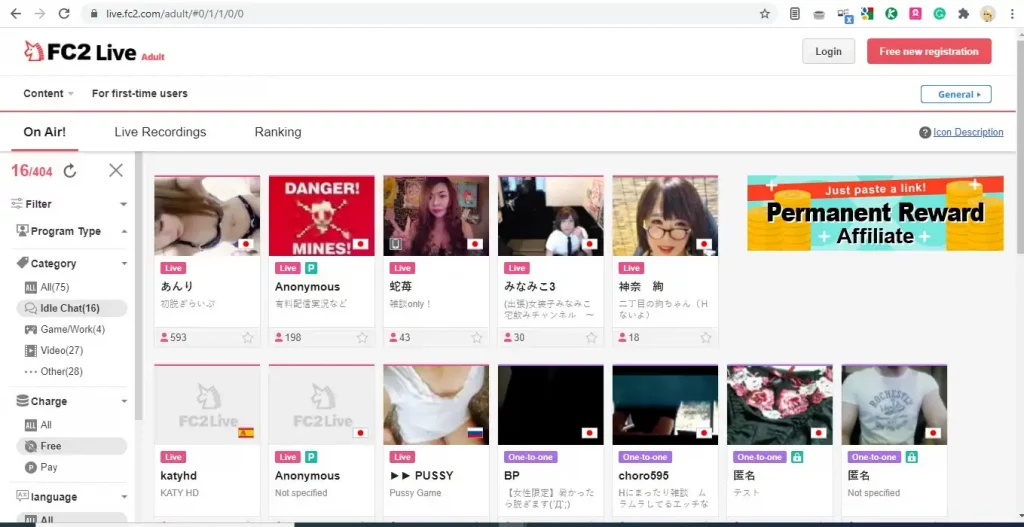 The fact that some hentai is listed under "On Air" is questioning.
Free chat on FC2Live
One good thing about FC2 is that you don't even need to create an account and you can watch as much as you like.
The quality of the Japanese camgirls here varies a lot, unlike Sakuralive which is covered with super cute Japanese girls.
FC2 Live Recordings
FC2 live recording was enabled in 2014 according to their blog. This lets the broadcasters do the live show and sell it later. But to be honest, you can get free porn videos everywhere, how many of us pay for porn videos these days?