What is Chaturbate?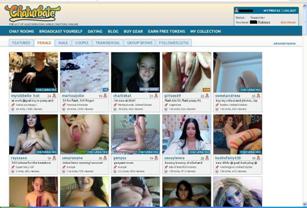 Chaturbate is a pretty cool cam site that any adult can join to broadcast and/or watch, all in one account. You are free to do anything you like as long as it's not against the law or social norm.
Launched in Feb 2011, in 2 years it has already won the Webcam Site of the Year for 2013 and 2014 by Fan Choice Award, the Fanny's. Though Streamate also has lots of girls nominated for Adult Webcam Awards in 2015.
What's special about Chaturbate (CB)?
CB created the Freemium chat
Before Chaturbate, you probably can't see any topless, hardcore, or nude for free. All modes will be clothed in the public chatroom and you have to go private for any nudity or anything hardcore. But Chaturbate removes this constraint. Models can choose to be clothed or nude, softcore, hardcore, and be as naughty as they want as long as it is not against the law and norms, and complies with CB's terms and conditions, This is definitely a game changer. Viewers can tip the model to encourage her to be topless, nude, masturbate, etc. One doesn't have to pay at least tens of dollars to start a private show to see anything. He may now tip a few dollars and the model will flash her pussy or ass. This makes CB a lot more attractive than the legacy cam sites and people call it Freemium chat. Yes, freeloaders can now just wait in the chatroom for someone else to tip so that they get to see something. But you never know. If he gets impatient, he may become the next new paying customer.
User-submitted chat apps and bots
Another game-changing idea Chaturbate has is to allow user-submitted chat apps and chatbots to be used in a chatroom. These allow models to customize the way he or she runs the chatroom.
What are chat apps and chatbots?
Chaturbate chat apps can control who can see the model's stream together with the content in the app panel below the broadcasting window. This makes ticket shows and secret shows possible. Only people who have bought the tickets or bought x minutes of the show can watch. In a way, it is fairer for everyone. Models get paid for a show and all the viewers have paid so that they don't feel they are paying and the freeloaders get to enjoy a show.
Chatbots are more in control of the text chat window. You often see models have a tip menu, send notices or rules to the chat, and games like roll the dice or spin the wheel. These are done via running chatbots. Models can run a maximum of one chat app and three chatbots to spice up their rooms.
This is a very clever idea because it is not limited to CB's own resources and ideas. These apps and bots are ideas from the whole related community with the interest of making chat fun and productive in mind. The successful ones will rise and the failed ones will be hardly seen. And all these only cost CB to set up the APIs and storage to have these tools run. And it certainly makes the whole chat experience more dynamic and fun.
See below for more about the chatbots and apps.
Moderators in the chatroom
I can't remember seeing any form of moderation in a chatroom before Chaturbate introduced the role of moderator in the chatroom. A moderator is a model-appointed person who can silence or kick someone out of the chatroom if he or she is not behaving nicely or breaking the rules. This again helps to make the chatroom friendly and positive without relying on CB's own support staff to watch for spammers or unpleasant people. See below for my post about choosing and being a moderator
For everyone:
For Models:
For Viewers:
Other Award-winning cam sites: