Using Tags in Chaturbate for cam models
On 27 Jun 2014, Chaturbate announced the usage of hashtags on their site. I really think cams.com should add them to their site. When the models broadcast, he/she will be prompted to try using the tags to describe their chatrooms better. A week after the announcement, I am going to see how many models are using it and how many viewers know about it and are using it.
What are hash tags?
Hash tags are widely used on Twitter, and Instagram. Basically, it's a keyword or string preceded by the hash sign "#" to make your post, image, or whatever content, a linkable and search-able link. eg. "#LivejasminShows" "#Sakuralive"
Basic rules of tags:
Get to the point – Don't use a long string like "#Iliketochatwithyounaked"
Keep it short – avoid "DildoVibratorButtplugAllInsideMe". Separate them. You are allowed to use more than one tag. "dildo" "vibrator" "buttplug" "masturbation"
No space between your keywords – if your tags use more than one word, use capitalization to make it readable. e.g. "#CumShow"
Where do I use the tags in CB?
When you broadcast, just include the tags in the subject of the chatroom.
You may want to include it at the end of your room description so that it doesn't affect the look on the who's online page. This doesn't look good as a room topic: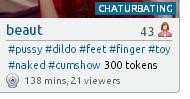 Top tips on how to use tags in CB to get traffic
know your niche/specialties

– Know what you are strong at and use the related tag, so that when your profile appears on that particular tag page, you stand out or you are one of the top five choices of that tag. e.g. #bigNips or #squirt shouts what's good about you.


Minimize the no. of tags to be seen on the room subject

on the Who's online page. As seen in the above picture, when your room subject is flooded with keyword tags it just looks silly.


Avoid using any tags in the first 60 words of your room subject.

As you see, on the Who's online page, it shows the first 2 lines of your room subject which is about 60 words. Any words (and tags) after that will still be listed in the Tag Menu but doesn't affect the viewers reading your goal/description. Another reason for not including tags in the first 60 words is that the tags are clickable. This means even if someone is reading YOUR room subject and if he clicks, they end up going to the tag page which shows many other models who are also using the same tag. You are potentially losing this viewer! He could have gone into your room instead.




Check your competition

– After you have chosen the tags you want to use, click through to the tag page and see who are your competitors. If Chroniclove or Blazefyre is using the tags, then you have a strong competition. Add some other tags as well.

What to add? Check the "Feature Tags" on the right-hand side of the screen (see pic above). Viewers who can't find what they want or are not happy with what they see may start to look at other tags. Check and see if you fit into these categories. If yes, add them. This means even if the viewer has left this page, you may show up at the next page he clicked.
Do you agree cams.com should use this? Go to Cams.com
ok… I hope you find this useful. If you think of any good ideas about how to use the tags, do share it here. Thank you.
Btw, if you are a cammodel, do you know that Bongacams is splitcam friendly?  People there are keen to pay for spy cams which means you can do a private show in CB and let Bongacams' viewers to pay and spy.  Try it out!
Related topic:
You're a viewer and not a model? Check out this post about tags for viewers. Or you can just visit Chaturbate and see it for yourself.