Read my 2019 updated Ultimate guide to C2C on Chaturbate
Someone posted in my Chaturbate FAQ page, stating he cannot work out how to do cam2cam at Chaturbate.  So, this is a quick post to answer his question.  🙂   If you want to know how to do a 2-way cam in Bongacams, here's an article about it.
What is Cam2cam?  Basically, it means two parties watch each other's live webcam at the same time.  It's also known as a two-way cam. If you want to know more about cam2cam, here is my previous post about the topic.
At Chaturbate, you first turn on your own cam and start broadcasting. You can do cam2cam with either people already in your chatroom, or visit someone else's chatroom and invite him/her to watch you.
What can be done in a c2c session?
First of all, you both can see each other's live cam. If the sound is turned on, you can hear each other too. And the fun has only barely started.
And if you don't want everyone to see your cam except her, in other words, set up an exclusive cam for him/her, it is possible too. Please see below for more details.
When can you do cam2cam?
Cam2cam can be done almost any time. In the example of Chaturbate, you may start it while you are:
in public chat in a model's room and invite her to watch your cam
suggest a password show from the model and request her to watch you
start a private chat and invite her to watch you
you broadcast yourself in Chaturbate and watch your viewers' live cam
your broadcast yourself in Chaturbate and invite you viewer to turn on his/her cam for you to watch
Cam2cam with Flirt4free cam girls
If you want to watch your chatroom's visitor
go to the "Users" tab in your chatroom
click on his/her username
if he/she is broadcasting, you should be able to see a snapshot at his/her profile section (see pic on the right)
click "view profile" and it will take you to his/her chatroom and you can start watching.
if he/she is not broadcasting, you will only see the words "view profile" without any pic. In this case, you need to invite him/her to turn on the cam
If you want to invite someone to watch your cam
If you are watching someone's cam already and would like to invite him/her to watch you, just ask in the chatroom or PM (private messaging).  Although most models may be busy with their own room and may not be willing to join you.  You may offer a tip.  Alternatively, most models will be happy to do cam-to-cam in private shows.
Another way is to search in tags. There are models who have the hashtag "c2c" on their room subject. If you are not familiar with how to use tags, here is my post about using tags and searching tags in Chaterbate.
I don't want everyone see my cam. What shall I do?
If you prefer to show your cam to limited persons only, you can set up an exclusive cam for him/her only.
This is what you do: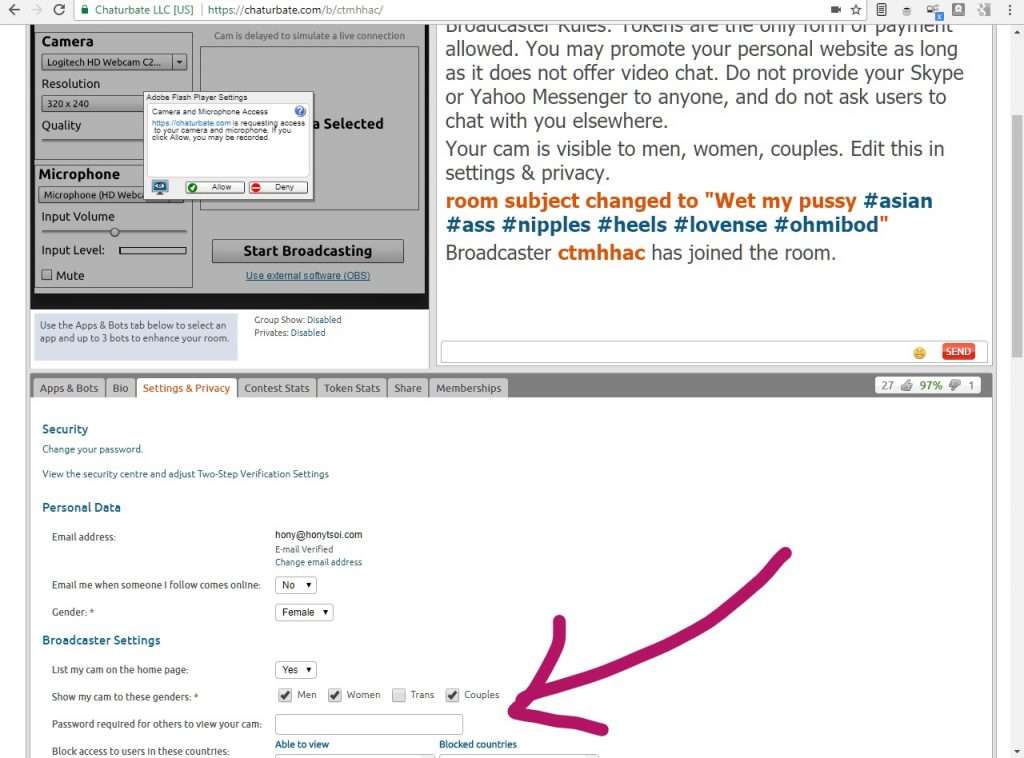 Go to the tab "Settings and Privacy" under your broadcast video and chat messages.
Look for "Password required for others to view your cam"
Type your password
Click "Save" at the bottom of the screen
It can be done before or while you are broadcasting.
Once the password is set, only people who know your password may enter your chatroom and watch your cam. So, invite someone to watch you, give her your password and ….
Have fun! 🙂
Bongacams, Flirt4free and Camster has cam2cam too! Have you tried them yet? Especially Flirt4free now has the 2-way interactive sex toy experience. It's not complete without being able to watch one another!