Are you looking to connect with your favorite cam girl but don't want to join any fan clubs or installing different phone apps? Xcams has a solution for you.
Whatsapp your cam girl while she is offline
Starting 2021, Xcams has introduced a new feature. It allows fans to send her a Whatsapp message 1 credit per message.
You can imagine it makes sense when you log in to Xcams, check which of the girls on your favorite list are online. You can chat with the ones that are online, but you may also want to drop her a line or send her a pic or video as promised in the previous chat. This is how.
How to Whatsapp your cam model?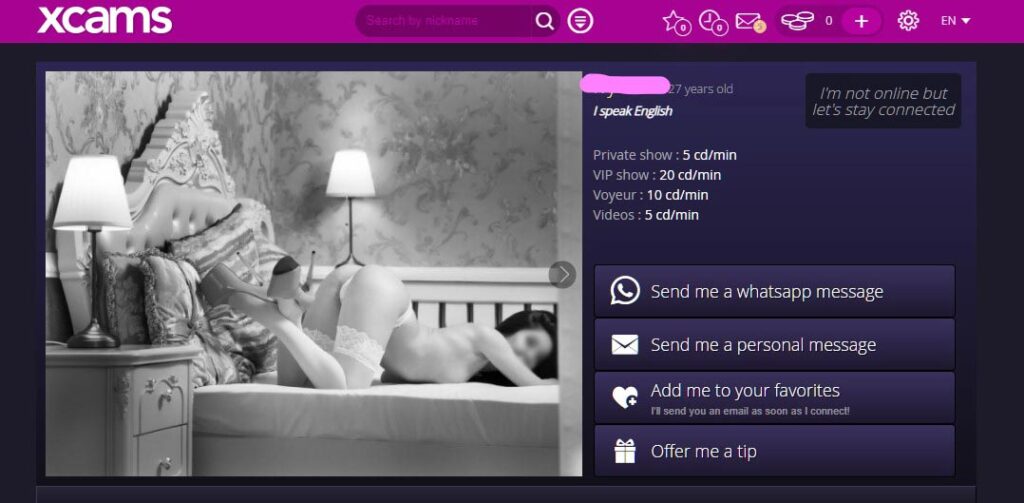 You need to go to her profile page.
If she is on your favorite list then you can just click on her; otherwise, go to: "https://www.xcams.com/chatfs/" and append her username at the end. For example, if her username is "hotslut19" then go to "https://www.xcams.com/chatfs/hotslut19/"

You have an option to choose a nickname to show on her Whatsapp.

Enter your phone number (including country code) which is linked to your Whatsapp account. Rest be sure that the models won't see your personal phone number.

Then you can send your first Whatsapp message to her for 1 Xcams credit.

Once the chat is established you won't have to enter your phone number every time. But it will cost 1 Xcams credit per message.

Receiving Whatspp messages from your favorite cam model is free. It doesn't cost you anything to receive her messages.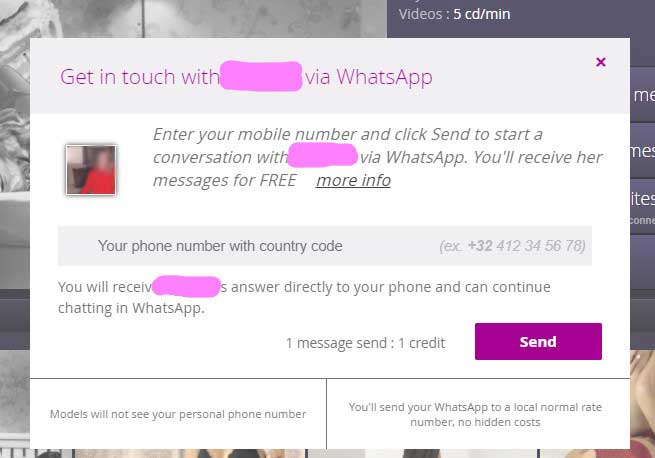 ---
Other cam sites that allow models to chat on Social Media
Cam sites used to be very restrictive and require models to communicate with fans on the cam sites only, fearing that any models earnings may bypass the cam site and they don't get a cut. But now everyone sells their social media ID, any cam sites that do not allow that may face models leaving. Anyway, here is a list of cam sites that you may officially reach the cam girls outside the site:
PM with Stripchat models on Plasma Messenger
If you want a totally different messenger app to talk to your secret friends, then Stripchat has a solution. Models on Stripchat with Plasma Messenger chatting set up allows you to send them messages and pictures or videos any time, at a cost. Default costs are:
Send a message: 10 tokens (models may set it to 1, 3, 5, 10, 15, 20, or 30 tokens)
Send a picture or video: 20 tokens (models may set it to 1, 3, 5, 10, 15, 20, or 30 tokens)
The advantage being, it's an app that no one has heard of so your friends and families are unlikely to be there. If you found that there, it means you two are on the same boat! Lol! Or when you are messaging your friends and families on Whatsapp or Telegram, no hot sexy NSWF messages will arrive on that app.
---
Bongacams models' social media accounts
Bongacams has a different solution for you to connect with your favorite cam models when they are offline. Models can put down their social media account on their profile pages for fans for free, or for a one-off subscription. In this example, she is charging 800 tokens to access her Snapchat account, same for Instagram.
In fact, Bongacams has allowed models to show their accounts on:
Twitter
Instagram
Snapchat
Tiktok
(Models may set a fee to reveal the account IDs for the above social media, or for free)
But models cannot set a price for the following:
Onlyfans
Reddit
Model's personal website
As Bongacams has not implement any fan clubs or alike for fans to join, they have to let models to use other platforms to connect with fans or the models may leave Bongacams and go somewhere else.
---
Find Chaturbate models' social media accounts
Although Chaturbate models can set up fan clubs in CB, there is no way for the fans to communicate with the cam model once the model is offline. An offline tip-note is rather passive and may easily be overlooked. Therefore, just like Bongacams, CB has also allowed models to list their social media information in their profiles.
Default social media listed on Chaterbate includes:
Snapchat
Instagram
Whatsapp
Others
Models may choose to show their social media accounts' details for free or at a cost. Chaturbate even has the idea of subscribing to her social media account by different duration so you can also subscribe to a shorter period to try it out first.
If it is not listed in the profile, it doesn't mean he/she is not on social media. You can always search for their screen name to see anything turn up in the Google search.
---
Conclusion
Trying to connect with your favorite cam girl/secret friends outside the cam site is never easy. Thanks to the rise of social media and all the fan-based sites like Onlyfans or FanCentro, fans now have more channels to get closer and get more from their favorite friends online.