SecretFriends.com certainly understand that we all need a secret friend or friends to fulfill some of our fantasy. This is the whole idea of secretfriends.com is about. The girls are the friends you would dream to have in secret no matter you are married happily, taken or single.
Find your Girl Friend on Secretfriend.com
If you like a girl on the site, click on the heart symbol and she will be listed under "Girldfriends" in your profile. Next time when you look at the Live page, all the girlfriends will be listed on the top of the page for you to find them easily.
What if my girlfriend is offline? Ask for a date
If you turn up at Secretfriends and find that your favorite camgirl is offline, and you really really missed her and want to see her, you can request a date. This is what you can do:
Go to her profile page. If you have marked her as your girlfriend, then you should be able to find her under "Girlfriend" in your profile. (See below to find "My profile on Secretfriends)

On her profile, you will see a button that says "Plan a date". Click on that.

Choose the date, time, and duration you'd like to meet up with her. Also tell her what would you like to do. By default, it is 3 credits a minute for a minimum of 15 minutes, but models can always adjust that.



Once you have submitted your requests, the credits required for the date will be on hold. You will receive an email about the whole date. She will receive a notification about your date with her. If she agrees, Secretfriends will notify you again.

Any other ways to contact my favorite cam girl?
Yes, especially if she has a Snapchat subscription turns on. You can check that out from her profile. Underneath her personal pictures, you will find a yellow button with the Snapchat symbol and says "Add me Now". It costs $20/month or $50/year. Once you click the button, she will receive the notification and add you to her Snapchat.
Other cam sites also have different ways for you to connect with the models outside the cam site. For example, Xcams let you Whatsapp her, and Stripchat allows you to chat with the girls on Plasma Messenger which is not a bad idea. As Plasma Messenger is not a common chat app, it's unlikely that your friends and families will be there. Therefore it's less likely for you to make a mistake and send your own precum dripping cock pictures to one of your friends by accident. For more details on how to contact the girls outside the cam site, see this post.
Where to find My Profile on Secrefriends?

On any page of secretfriends.com, look for your avatar on the top right-hand corner (or a grey silhouette if you have never set one), click on it.
It will display your credit balance and any unread messages. Below these two you should find the "My profile" button and the "Sign out" button. If you click the "My profile" button you will be brought to a screen with everything you need and want.
What can I find under My Profile?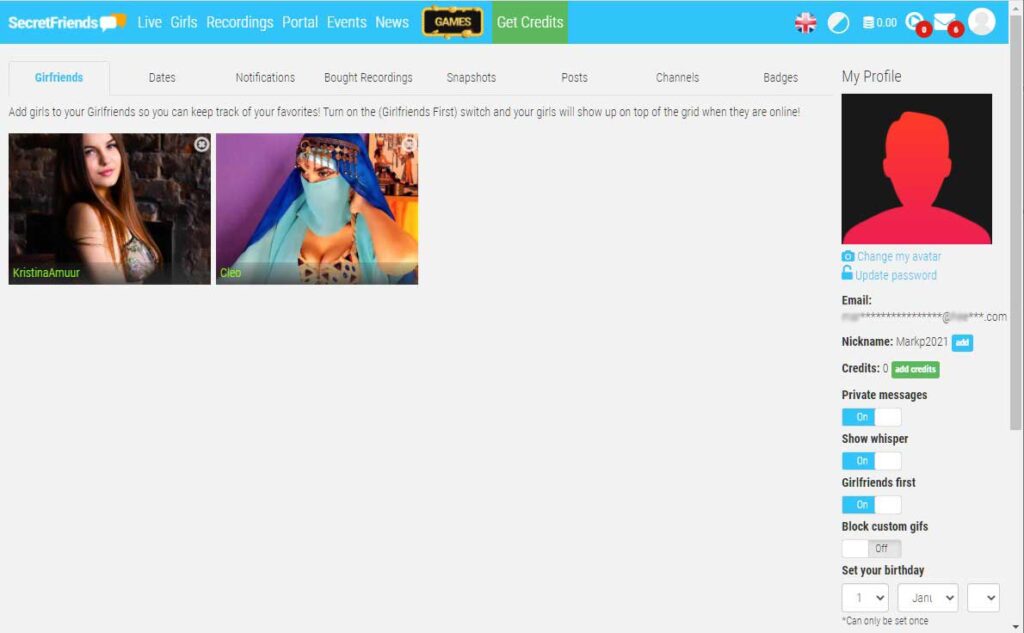 Your list of girlfriends (those you have clicked the heart icon)

Your dates with the girls (if you have requested one)

Notifications – list of girls that you have request notifications once she is online. Go to her profile page to turn this on or off.

Bought recordings – your collections of live shows can be found here.

Snapshots – Once you are a verified member, you may take snapshots of the girls and they will be saved here. It's a privilege for verified members at NO EXTRA COST. If you like snapshots or recordings of the girls, you may want to know that Stripchat also lets you record her public show.

Badges – both camgirls and viewers may collect badges. On the viewers' side, it's mostly about how many credits you have sent so far, or how many times of private you have taken. There are many more badges you may be given too. For example, you may be a spanker and often send "Spank stickers" to the girls. You will be given a Spanker badge once you have sent 250 spank stickers. The same ideas apply to kisses, roses, hugs stickers and etc.

How to let her see me?
There are three ways you can let your cam girl friends see you on Secretfreinds.
One is to send her a selfie when you are in her public chatroom. Look for the "Send Selfie" icon

on the left of her live stream. Click that. You need to have a camera on your device and allowing Secretfriends to access your cam. This way, the system can send your selfie straight to the model. Rest be sure that no one else can see your selfie. And Secretfriends won't save your selfie in their system too. It costs you 1 credit per photo.
The second way is to go private and arrange a cam2cam session. This way you both can see and hear each other. Looking forward to that moment that you both cum together? Private shows by default cost 2 credits per minute, or 3 credits per minute if it is a VIP show, which means no other users can spy on her show for you.
The third way is more subtle. With Secretfriends, you can upload your own images or animated GIFs in her chatroom. Be creative and send a fun or romantic animated GIF to her. That surely will leave her a positive impression with you. Each image costs 2 credits with a maximum file size of 10MB.
How much is 1 credit in Secretfriends?
It depends on which credit package you've bought. It's typically USD1 per credit.
If you buy the $10, $25, $50, $75 or $100 credit package, you will be paying $1 per credit.
Starting from the $150 package, you will get 155 credits which means it's $0.96 per credit.
The $500 is the cheapest. You will get 560 credits which means it costs $0.89 per credit. And if you intend to buy even more than $500, you may contact their support and arrange a wire transfer. It implies that it will be even cheaper.
Conclusion
Secretfriends.com is a fun little site. Although there are not many girls around, there are plenty of nice features. Besides girls to talk to, there are videos and recordings of live shows, porn stars' shows once in a while and there are even games for you to play with. Check it out!