Recording a cam girl show has never been easier. I know you would like to record all the best moments of her shows, how she wriggles, how she smiles, and that naughty face. This post is going to show you how to record a cam girl's shows legitimately.
Cam models can run six types of cam shows and not all of them allow recording.
Six types of cam shows
Public show – public as in any members can watch if the models do not impose any restriction on genders, and location of the viewers.
Broadcast in public/outdoor – not many sites allow broadcasting in public places. CB doesn't even allow studio sets that look outdoor or public because it can cause a lot of trouble. See my post about broadcasting outdoors and where to find them if you like public cam.
Party show – model sets a goal and when goal reaches a special show will be given to those who have contributed to the goal.
Group show – more than one viewer may take the model to a semi-private room where only those who pay the per-minute group show can watch. Non-group-show viewers can stay in the public chatroom but they will see nothing.
Private show – one viewer takes the model to the private room for a private show. Other viewers can stay in the public room to wait for the model to finish with the private show but they will see nothing. Except…
Spy show – aka voyeur show, a viewer can spy on a model's live private show for another guy if he pays by the spy-per-minute. Stripchat, Amateur.tv, Chaturbate, and Eurolive allow voyeurs to spy on the models' private shows.
Public shows and private shows are the two common ones and there are party shows and spy shows or voyeur shows as well. Some camming sites record party shows but spy/voyeur shows are typically not for recording. But it is a common practice to be possible to record a private show. What about public shows?
Can I record a cam model's public show?
99.9% of the cam sites do NOT allow viewers to record a cam model's public show. If you use any software to record it secretly you are infringing the copyright. Stripchat, however, recently has agreed with the models and made this possible and legal.
How to record a public show on Stripchat?
Like what you see on the screen and you want to capture it? Whether it's a balloon fetish girl who is riding a balloon for her balloon fetish porn show or that golden moment she squirts or pisses in front of the cam on Stripchat, you can record it any time you want. On Stripchat, you now have an option to buy the recording of his/her public show by the minute. This is how.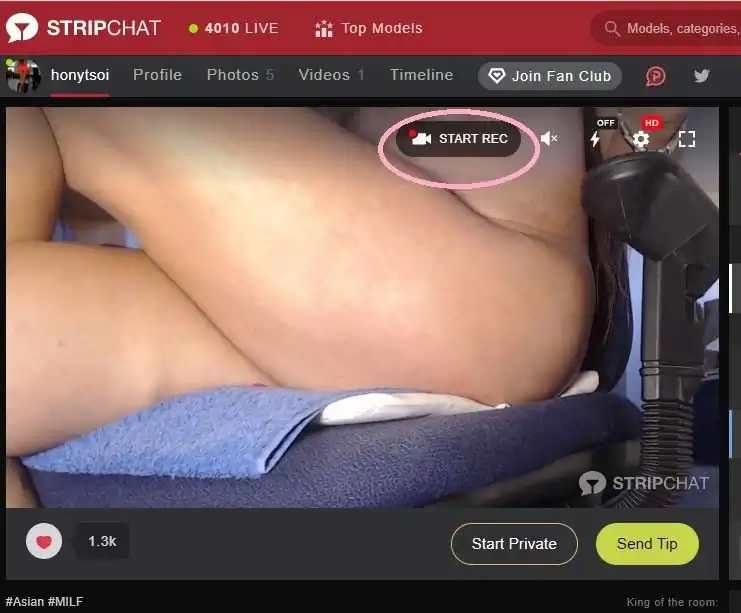 First, look for the "Start Rec" button on her streaming video (See screenshot above). If you can't see the button, move your mouse onto the video, and buttons like "Start Rec", sound control, and settings will appear.
If you still can't see the "Start Rec" button, it means that the model you are viewing has not given permission to record her public show and has not set a price for it. You need to ask her to turn the setting on and set a price.
If all are set, just press the "Start Rec" button any time you wish to start recording.
You can stop the recording at any time, or until you have run out of tokens.
You will be informed of the cost per minute and where can you find it.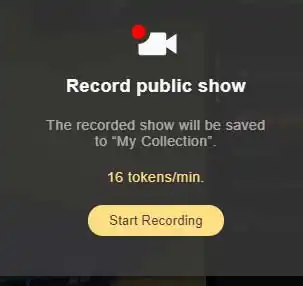 How much does it cost to record a public show?
You will pay for the recording by the minute. Models can set the price as follows:


Prices are pre-set by Stripchat. Models can choose from as little as 4 tokens a minute, to 150 tokens. 😮 If your favorite cam girl asks for 16 tokens a minute for recording her public show, and you have recorded 5 minutes, that will cost you 16 tokens x 5 = 80 tokens. You will see the recording under "My Collection".
Can I record her private shows?
Yes, most cam sites allow you to record your private shows. Some are built-in to the per-minute private show cost and some cost you extra.
It also depends if the models allow it. Many cam porn sites make it an option for the models to choose whether to have their private shows recorded. Models are encouraged to allow recording because it is more attractive to the guys in general when they thought after watching the live show they can go back any time and watch the same shows that help them reach that climax again. But still, it is up to the models.
List of cam sites that allow recording of the private shows
How to record her private shows?
Different cam sites have different ways for you to access your recorded private shows, with or without paying extra.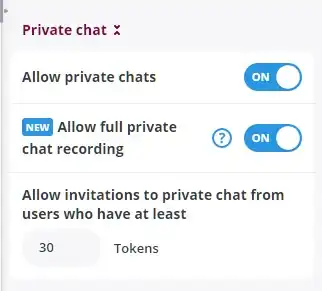 For cams sites that let models choose whether recording is allowed or not:
When you initiate a private show with the cam girl, you should normally be told whether the recording is allowed by this model or not.
If she does NOT allow recording, you may want to cancel this private show invitation and go back to the public room to ask, or send her private messages to ask whether she can turn on the recording option or not, possibly for extra tips or a higher per-minute charge.
If she DOES ALLOW recording, then it is straightforward, you don't have to do anything. Lay back to enjoy the live private show. When you have finished, it will automatically be saved.
At this stage, if you are watching on sites like Chaturbate, Stripchat, or Bongacams, they will be saved and appeared under your "My Collection" on the top menu bar in Chaturbate or Stripchat, or somewhere equivalent in other cam sites.
If you are watching on F4F, VIP members watch the recorded private shows for free or you have to purchase them separately.
For cams sites that record the private shows automatically
For cam sites that record the private shows by default and have the models' consent in the contract, it's very likely that you have to pay separately for the recording. Their idea is that, you only purchase the live show, you haven't owned the video and so the video recording costs extra. Is it fair or not, it's your discretion. After all, someone has to pay for the storage of these videos. It's a matter of whether it's built-in to the per-minute private show cost or as an extra fee.
What about snapshots?
So far we've been talking about how to record the cam shows. What about snapshots? Besides looking at the cam girls' gallery, one site does let verified members take snapshots of her show in the public chatroom for free, and that site is SecretFriends. Secretfriends.com is around for over 10 years. Despite it having many innovative ideas it doesn't seem to be very popular. Maybe it's even better when her chatroom is not stuffed full of thousands or even tens of thousands of guys, she can actually give you some attention that you deserve.
Conclusion
I know one may access cam models' shows recordings from Pornhub or alike but those are illegal copyright infringement copies. If you do like your cam girl and would like to support her, why not pay for the recording properly and show your support?