Although there are many jerk off cams available online, the majority of them are broadcasting girls and for guys to jerk off to the cam girls. There are comparatively a lot less gay or bi guys only cam chat sites around. This article is going to give you a comprehensive list of guys-only cams for you to jerk off with.
Live Gay Cams (guys only)
I know sometimes you may want to just watch some gay porn and have a quick cum. But other time you would rather chill out in the evening by chatting with a sexy hot guy, jerk off together and watch him cum. That's when the live gay cams come in handy. Here is a bunch of guys only cam:
Gay Cams that have the most guys and most choice online
Among the guys-only cams, Streamen has the highest number of guys online. It's averaging on over 200 guys online at a time. And of course, they have more than 200 gay models registered. This is just a snapshot of the number of people online. A quick 24-hour check of the site and I've found over 900 gay models jerking off in front of the cam on Streamen.
Top most gay models online
Here's the ranking of the different gay sites in terms of guys online:
Streamen (aka Streamate gay) – 202 gay models
CamBoysLive (aka Cams.com gay) – 124 gay models
CameraBoys (aka Livejasmin gay) – 94 gay models
Supermen (aka imLive gay) – 45 gay models
XloveGay (aka Xlovecam gay) and GoLiveGuys (aka Camcontacts gay) – both have 16 gay models
These are the cam sites dedicated to cam boys only, and you won't see a single woman there. However, the generic mixed guys/women/trans big cam sites do have a lot more models online than these dedicated sites. Here is a list of mixed men and women sites for your reference.
---
Read my top tips on how to be not caught watching porn
---
List of generic cam sites with hot twinks/twunks/hunks on
Unlike the gay-specific cam sites, somehow there are more guys on generic cam sites like Chaturbate and Cam4. I supposed they are attracted by the big traffic that big sites provide, or maybe they are bi or bi-curious so they welcome all kinds of audience.
Top generic cam sites with most guys
Chaturbate gay – 1,908 guys
Cam4 gay – 1,105 guys
Stripchat gay – 370 guys
Bongacams gay – 158 guys
Flirt4free gay – 142 guys
CameraPrive gay – 20 guys
Camsoda gay – 14 guys
Chaturbate's guys
Chaturbate is certainly the leader in terms of the number of guys online, broadcasting themselves jerk off in front of the cam and cum. It has almost over 1,900 guys online at a time, not to mention there are plenty of amateurs who broadcast only on weekends. The potential number of guys registered on Chaturbate is easily 3,000 to 4,000. That's a lot of choices. No matter you are looking for an Asian twink to Caucasian hunks, you will see lots of lots of erected cocks around.
Flirt4free gay cam
Even though Flirt4free's gay cam section has around 140 guys online and is ranked #5 in terms of the number of guys online, the hottest degree of the guys is among the highest among all these cams. Do you know why?
First, they are mostly guys who worked for the studio, and the studios simply picked the sexiest ones. If you are a muscle admirer then look no further, Flirt4free has the best muscular guys.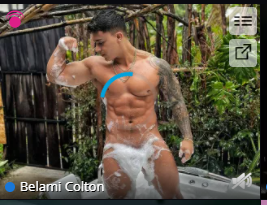 Secondly, if you are familiar with Belamionline.com, you will be pleased to know that some of their porn star models also broadcast on Flirtforfree. In fact, Belami's own chat site Belamichat.com is actually pointing to Flirt4free's guy section. Belamichat is what we called a whitelabel site of Flirt4free.
The quality of the guys are simply so high. I have no word to describe. You'd better see them yourself. 😉
Cam4's guys
Another big cam site with lots of guys is Cam4. There were about 1,100 guys online when I last checked, with plenty of them are amateurs. Guys on Cam4 may not have the best HD camera, not a fast internet connection, nor nice and cozy background like the guys in the studios. But they tend to be more relaxed and just want to hang out with guys of mind alike. Tips are good. No one will object to that but that may not be the main purpose why they hang out on Cam4. I always have the feeling that people in Cam4 are looking for a date.
Stripchat's cam boys
Stripchat is an emerging cam site and is constantly enhancing the site and providing more features both for the models and the viewers. Fan clubs with customizable benefits set by models, opt-in for Telegram notification when your favorite is online are a few new features they add to the site.
The search function on Stripchat is also more powerful than most cam sites. Most cam sites just let you search for a model's name or tag. The search function not just look into the list of models' names and tags, it also check models' tip menus and goals. This means that if you are looking for a particular niche or action that may appear in tip menus or goal, you will find it under this search.
Let's say, if you want to see precum. You type "precum" into the search box. It will then look for all models' name, goals and tip menus and find the models who mentioned it and show the results to you.
I haven't seen any cam site let you search in models' tip menus or goals yet. This is certainly very convenient and useful.
Conclusion
No matter you like amateurs or the perfect sexiest studio pornstars, you will find them in either CameraBoys, Flirt4free gay cam or Streamen.