­
---
What is Asians247?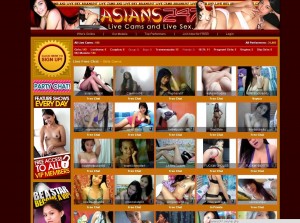 Unlike XLovecam which is full of European cam-girls, Asians247 is full of Asian hot girls. Asians247 is not as big as ­other major Asian cams like Sakuralive or Cams.com, but still, it has over a hundred girls for you to choose from.
How much is the private show in Asians247?
Each model charges differently but the majority are <$2/minute. And you can peek in a private show for something like $0.69/minute.
Types of shows in Asian247
There are three types of shows:
Free chat – this is a non-nude chat where the girls are only allowed to tease you. Don't just beg her to strip. It's not allowed in the free chat room. Take her to the nude chat or private instead.
Nude chat – as the name indicated, nudity is allowed. And multiple viewers are allowed too. It's basically a nude group chat.
Private 1-to-1 – no one else can chat except you and the model. Optionally you may turn on your webcam and show yourself to her too.
Is it worthwhile to have a Asian247 VIP Membership?
It depends on what type of cam viewer you are. Whether the VIP member benefits matter to you or not. For $29.95 a month, VIP gets:
10% off all future private show
Free access to archives and future featured shows
Free access to your own private shows' recording
Free access to all archive videos
These all look very similar to Flirt4free's VIP membership except F4F does not give private show discounts. And F4F lets you send emails and pics to the models.
So, if you like to take the girls to private shows often then you may break even very quickly. Models here don't charge very high for private anyway. Most of them are under $2/minute and you can even get 2-way private mode (which means you can choose to let the model watch you too).
If you love watching porn videos anyway and you get to watch the girls you can actually talk to, then this VIP membership is great.
I haven't modeled there. If you know of anything about them, no matter for models or viewers, please leave me a message below and I'll investigate. Thanks!!