Despite having 2-way audio c2c and lots of elegant and glamourous ladies online, Livejasmin has to give out free credits and launch more changes to the cam site to save the losing cam battle.
It's no secret that Livejasmin has come to a plateau, or even dropping in the sex cam industry. Free credits continue to be given out and there are changes to the operation of the company and the cam site too. Maybe they hope the changes may help to revive the glamour cam site and stop customers and models from fleeing?
How is Livejasmin doing compare to other sex cams?
The chart above is the Google Trends chart to compare the search behavior of people among Livejasmin, Flirt4free, Myfreecams, Stripchat, and Bongacams.
As you can see, Livejasmin (blue) was doing very well for quite a while. It has reached its peak in Dec 2010 but has started to lose its steam. By the end of 2013, the decline in interest for it continues. This coincided with the rising of Bongacams (purple). By early 2020, Stripchat(green) made a breakthrough and Livejasmin has dropped further.
Changes to save Livejasmin
Nudity in Livejasmin cam girl profile pictures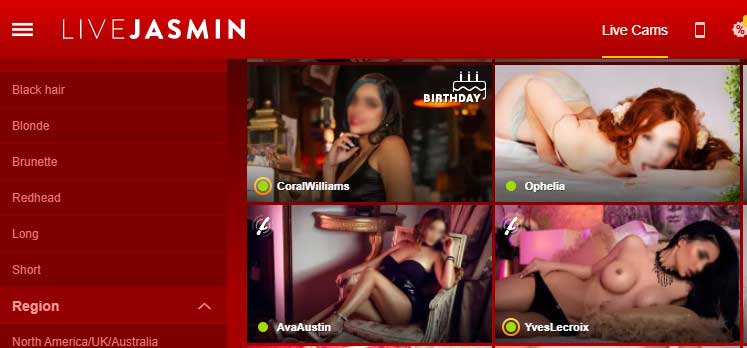 Some of the old Livejasmin customers may remember that bare breasts are allowed in profile pictures. Then it was banned for a few years. Now they bring it back.
I can see why they do that. They are hoping the naked natural big tits on the profile invite viewers to click through to chat with the hot girls. The downside is that it may confuse the viewers. He can see big nice tits on her profile but when he clicks through to her chatroom she is dressed and has no nudity whatsoever. He will also be told by the models that it's the rule of Livejasmin to have no nudity in the free chat. Please go private for more. I am not sure how well will it go down by the viewers. As one of the LJ models said,
"As for the breast allowed to be visible on profile pictures, it was like that before as well, and I was never sure why they would allow that if it is not allowed in free chat? It comes across as not consistent, and I think it would make more sense that profile pictures have the same rules as what members could expect to see in the free chat as well? What's public is public everywhere, and what is meant to be kept private should be private on profile pictures as well?"
Lush is back on Livejasmin
Lovense Lush was gone from Livejasmin for a few years. Now they are bringing it back for the VIP in the private shows. Interactive toys are almost the standard thing you find in the freemium sites and people are used to it. There are people who rather not have the toy in her pussy but there are guys who would like to buzz her toy and make her feel good too. Even though Livejasmin is a premium site it should cater to the viewers who would like to see interactive toys like Lush.
Livejasmin's models' responses to the changes
Most models are disappointed by the decisions to this once elegant and glamorous cam site.
"Nudity can affect traffic. I like this platform for its elegance and sensuality. How is it possible that it becomes a bit vulgar platform? I understand that platforms have to adapt, but I don't think that is the case."
Livejasmin always strives to look classy and the girls are glamourous. It is not an accident that all models there have fantastic, glamour quality photos. Notoriously, they have very strict guidelines for the models' profile photos. It is to make sure all models have the most sensual and inviting pictures to attract the viewers to go private. Models are sad to see the site is moving towards the less classy direction when the new guideline said,
"Intimate Parts: Displaying breasts is acceptable in case of the profile photo, although the appearance of other intimate body parts (genitals) are not allowed for either genders. Exposing erection (even through underwear) should be avoided for all male performers. We neither accept pictures where pubic hair is visible.

Sex Toys: Sexual Toys are NOT allowed to appear in the images.

Breast display: Topless images are allowed. Taped nipples are allowed. "
Almost naked cheap women with tape as a bra and a strand of "hair" for panties is not the image that most LJ models or even viewers have in mind when it comes to Livejasmin. It's too wishy-washy in terms of being hardcore and explicit, and it's easily fallen into the cheap, ghastly, and distasteful category.
Models also find it unfair that they don't get a share of the voyeurs' spending especially when the viewer is paying to peek at the model's private show. With the loss of traffic, the income of most of the models has dropped by more than 50%. If it continues like this, more models may leave.
Conclusion
Useful changes are always welcomed to adapt to the customers' requirements. The LiveJasmin development team should also reach out to their webcam performers and listen to what is needed, suggestions, opinions, and feedback. A live streaming platform is awesome and popular only when there's real communication between decision-makers, platform developers, cam models, and of course tippers (customers) – a full circle.
Don't forget to check out the latest promotion and discounts below if you still love Jasmin.