Have you ever tried to start a private show or just to tip for a tit flash and find that you have run out of tokens but you can't buy anymore?
Chaturbate has spending limits for its customers of all levels. There is a daily spending limit, a weekly, and also a monthly spending limit. This is different from Streamate which lets "You" set your daily spending limit so you are the one in control.
What are the spending limits on Chaturbate?
The spending limits are different for different members. It is also different if you pay with a wire transfer versus payment methods like credit cards, debit cards, ePoch (credit card), Paypal, or cryptocurrency.
For non-wire-transfer payments, the limits are:
Basic members: 2,200 tokens/day, equivalent to USD199.96
Supporters: 3,850 tokens/day, equivalent to USD349.93
For wire-transfer:
If you top up your Chaturbate account via wire transfer, the minimum amount is the same for basic members or supporters. You have to top up a minimum of USD250 at $0.08/token.
That is the daily limit I see. It may be different for different countries, I guess. I don't know. I've written to Chaturbate's support to ask about the spending limit but they will not reveal it. The reason being:
"Our spending limit is a protective measure against those who attempt to make fraudulent purchases. Since we have to stay one step ahead of these hackers/scammers, we do not disclose specific information on spending limits. Thank you,"
There are also weekly and monthly limits too. Imagine if someone has stolen your credit card to buy tokens, you would want the cam site to delay the purchases to minimize your loss, to give you time to report the loss, and stop the card, wouldn't you?
Solutions to the spending limit problem
There are multiple ways you can get around this problem.
Wait for the next day, next week, or next month so that your limits are reset.
Fill in CB's form to increase your limits
Find out where your favorite models also broadcast and you watch her there instead. Most models broadcast with multiple cam sites anyway. Stripchat, Bongacams or Camsoda are a few to name. Check out her profile, Twitter account or Onlyfans may mention what cams she broadcast in. If you create an account with the same username then she will recognize you too.
Try some other new cam sites. For example,
How to increase Chaturbate's spending limit
To raise your Chaturbate's spending limit, you have to fill in a form and provide a photo of your ID or passport. Here are the details:
Visit https://chaturbate.com/tipping/purchase_tokens/increase_limits/ to download the form. (See the picture of the form below)
Fill in the form. You may print it out, fill it in, and print it, or use one of the online PDF editors or Chrome extensions to edit the form if you don't have a printer.
Have a photo of your ID card or passport ready.
Send an email to [email protected] with the form and ID photo.
Once it's approved, you will get 200 tokens for free when you purchase tokens next time.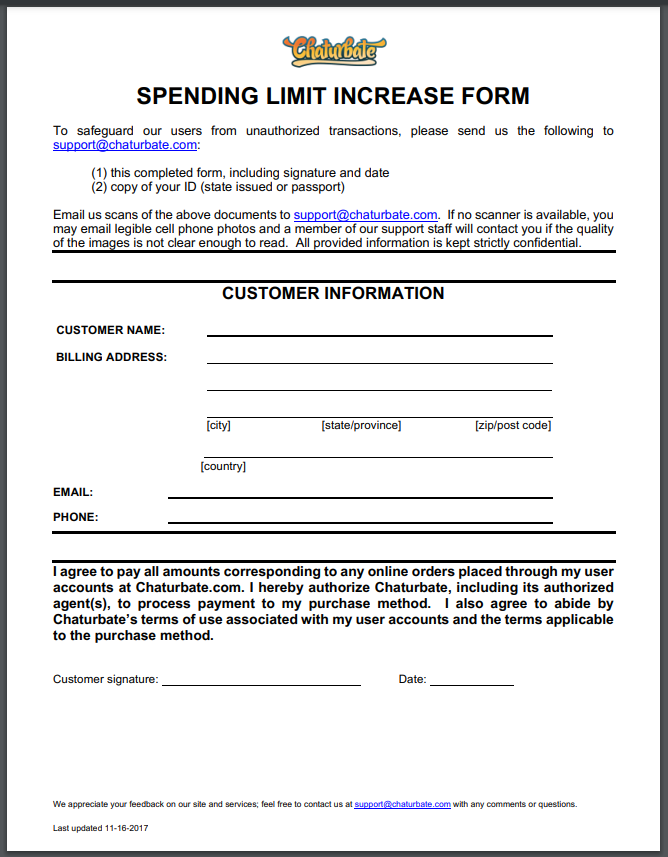 If it still doesn't work, your last resort may be to create a new CB account using a different credit card.
Why is there a spending limit?
Online shopping fraud is bi-directional. Both customers and shop owners can be the victims. In the case of sex cam sites, hackers simply use stolen credit card details to buy tokens, tip the models or even enjoy a few private shows before Chaturbate found out and blocks it. When the real owner of the credit card finds out, the transactions will be reversed and the shop or cam site will get a chargeback. Some cam sites may absorb the loss while some may deduct the earnings from affected models.
It's a loss to the cam site itself, or they will upset the models if the models get the chargeback, and is generally unhappy for everyone. While many people distrust porn sites and would rather not provide their personal details to them, the cam sites need measures to protect themselves too. Setting prudent spending limits for customers is one way.
Conclusion
The limits are there for a reason. If you do enjoy your cam shows and would like to reward the models more, go ahead and fill in the form to increase your limit; otherwise, you can always wait for the next day, next week, or next month to buy more tokens. Alternatively, check out these cams if you haven't heard of them yet.