What is Buzzmode on Cams.com?
Buzzmode on Cams.com is all about making it easier for you to buzz the models' Lovense toys. Most cam sites just leave the models to use Lovense's tools and apps to connect to their own sex toy and react to the tips whereas Cams.com tries to make it even simpler for the viewers.
With other cam sites, models may charge different tokens for different strengths and duration of the vibration of the Lovense toy. It can get confusing and troublesome to have to check each model's toy menu for tipping. Cams.com tries to make it simpler by having only basic buzzing and super-power buzzing, and the price is easily seen on the screen.
What do you need to enjoy Buzzmode?
The viewer needs tokens to be able to activate a model's Lovense toy. Each model sets their own price for buzzing. And there are two different modes: Buzz and Superbuzz.
Buzz mode:
To buzz her toy, just click anywhere on her live-stream video and you will be charged for each click.
Superbuzz mode: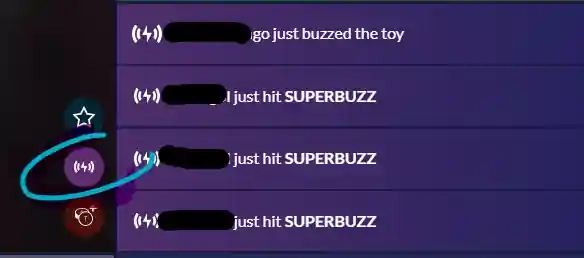 To activate her toy in Superbuzz mode, look for the symbol in the screenshot above, at the bottom right-hand corner of her video.
How many tokens to activate Buzz or Superbuzz on Cams.com
As I said, each model can set their own price. When you visit the chatroom her price will show on both the text chat window and the video. Here are some examples of the rates.


I have seen as low as 2 tokens for a basic buzz and 5 tokens for a Superbuzz. How much does your favorite model charge?
What is Connexion in Cams.com?
Teledildonics has certainly a norm in the cam chat industry. Remote-controlled toys are no longer adopted by new, modern cam sites only. Even old sites like Livejasmin have to submit and allow their models to use interactive toys like Lovense. But Cams.com does not just settle with that. They have gone far and beyond and implemented their own version of the remote control toys interface called Buzzmode. It has pushed it to the next level to allow both models and viewers to be able to control and feel the reaction of one another. This is Connexion. Perfect for those who already enjoy two-way cam or cam2cam.
How is Connexion done?
First of all, the cam girl needs to own one of the Lovense toys like Lush. The viewer can control the intensity and duration of vibration to her toy via either tipping through the cam site, or obtaining a URL from the model to directly control her toy for a period of time.
To enjoy the intimate reaction of your chosen cam girl, the viewer should have a Lovense Max, which is a toy for male viewers to put on.
When the two toys, Lush and Max are connected via Cams.com, the viewer can drive his girl mad by adjusting the intensity and duration of the vibrations of her toy. When to push the toy to maximum power? And when to lower the power? Or stop the toy totally to make her beg. Feel her vagina contract or pulse via your Max after you suddenly stop that high-power vibration. The fun is unlimited.
Where to find models that support Connexion?
On the home page of Cams.com where you find the thumbnails of all online models, look for the "X" symbol.
Alternatively, on the left sidebar, there's a list of models of different categories. You should be able to find Connexion near the top of the list.  Click that, and you will have a page full of cam girls that can have virtual cyber sex with you.
Conclusion
Connexion that lets you feel the models sounds like a good idea. Flirt4free has it too. Check out Flirt4free if this excites you, not to mention Flirt4free has plenty of hot models too.