We all know that emojis and emoticons make messaging more fun. When you message your favorite cam girl on Whatsapp or Plasma Messenger (A naughty messaging app by Stripchat), emojis may express your fiery feeling about her. Do you ever wish you can put more emojis or emoticons in her chatroom? Actually, there are plenty of cam sites that let your chat with emojis or even upload your own. Read on to find out more.
First of all, what is the difference between emotecons and emojis? Are they interchangeable? Are they the same thing?
What is the difference between emojis and emoticons?
According to Britannica, Emoticons are punctuation marks, letters, and numbers used to create pictorial icons that generally display emotion or sentiment. 😉
Emojis, are pictographs of faces, objects, and symbols that are considered a Japanese invention. "e" is for picture and "moji" is for character. The yellow cartoony faces 😀, thumbs up 👍, animals, and food items 🍺 are the common ones that we are all familiar with.
Which porn cams allow emoji?
All cam sites let you use emoticons already :-). But if you want something funkier, there are cam sites that provide non-standard emojis. They could be designed and provided by the cam site itself. Or they could be submitted by other users to the site and everybody gets to share. Here is the list of cams that allows extra emojis:
Amateur.TV
Amateur.tv not just provides you with emojis, but they also have lots of gifs and stickers for you to choose from. The emojis come in small or big sizes, and the gifs and powered by Giphy. Unfortunately, they don't seem to let you upload your own.
Bongacams
Bongacams is similar to Camsoda or Chaturbate. It lets you use the pre-built ones and the user-submitted graphics. And you can upload your own ones too. See details below.
Camsoda
When you click on the smiley face next to the text message box in Camsoda, pages of emoticons are available for you to choose from. The screenshot below is about Camsoda's global emoticons. If you click on the "Room emoticons" tab, it will show a different set of emoticons, if there are any. And you can always upload your own there.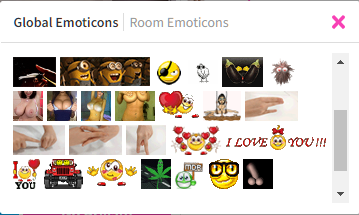 Cam4
Cam4 supports standard emojis and gifs powered by Giphy.
Chaturbate
Chaterbate calls them all emoticons. There is no convenient way to see the full list of them. You just have to start typing a colon in the text box with the key idea you want, then a pop-up box appears and shows the various possibilities. For example, if you type :kiss to send a kiss to your favorite cam girl, you will be shown:
:kisses4u
:kissy
:kissesforyou
:kisses69
:kissass
and many more
There is no convenient preview of the graphics, you just have to click on one and see what it looks like, whether it is the one that you want.
Stripchat
Stripchat's emojis are not for everyone. Only the models and ultimate members can access the emoji. I suppose it is a good balance such that the chatroom is not full of cartoons and graphics. It can get out of control sometimes.
Which sex cams allow emoticon?
As I said, emoticons are punctuation marks, letters, and numbers combinations. As long as you can text chat in the model's room, you can type the emoticon.
When I say emoticon, in this case, it does not limit to the text-only version like :-0 or :-), you can "type" the cartoons via your keyboard.
If you are using Windows, just press the Window key and semi-colon or Window key and a full stop. A window will pop up to let you choose the one you want.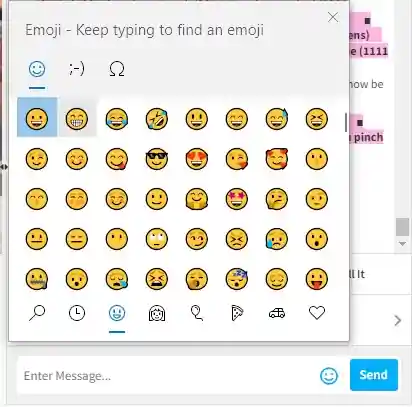 If you are a Mac user, you will need to go to System Preferences, choose Keyboard, and then enable the viewing of emojis.
Which cam sites allow you to upload your own emoji?
Some porn cams understand that emojis do help us to express ourselves in a way that words can't, And there is no way that sex cam sites can read our minds and provide all the witty, naughty emojis that we want. It's better to let us design our own and upload the emojis that we love.
The following porn cams allow custom-made emojis to be uploaded to their site, if you are an emoji lover then check it out.
Upload emoticons to Camsoda
Camsoda lets you upload GIFs only and there aren't any guidelines about the size or content. As I mentioned above, just click on the smiley face next to the text box, choose the Room emoticon tab and there is a button for you to add your own GIF.
Upload emoticons to Bongacams
Bongacams lets you upload your own graphics and pictures to them. The maximum width is 400px and maximum height is 100px. You can create a shortcut using the format: colon, text, and optionally using "-" or "_".
Upload emoticons to Chaturbate
Chaturbate is more organized. They have clear rules about what is allowed and what is not, and there are recommendations for the sizes too. Check out the guidelines here.
Should you use emoji when texting or messaging a girl?
Girls tend to use emojis more than guys because most girls like fun and cute emojis and gifs. But whether a guy should use them in a message or text then it is depending on the situation and how acquainted you are with her.
Here is the general rule of thumb about adding emojis or GIFs to a chat:
Your opening message can be a smiley, hand-waving cartoon. But it should not go straight to showing your manhood aka hard penis, no matter if it is a cartoon or third-party or your own monster cock or tiny dick to fish for Small-penis humiliation.

Follow her lead. Hang around her chatroom for a little while and see how often she uses them.

Even if she uses emojis or emoticons herself, it doesn't mean that you have to reply with it for every response.

Use it sparsely. It's fun and can be witty. But a screenful of cartoons may become too much. Weave plenty of your sweet words, compliments, and tips in between the emoticons. This way you hit all 3 desirable qualities of a man: fun, sweet and passionate, and a provider.
Conclusion
We human beings are good with words, the cartoons are extra to highlight our ideas and thoughts.
If you know of other cam sites that allow custom emojis and gifs, please do leave me a message below.
Citation
Grannan, C. (2022, August 25). What's the Difference Between Emoji and Emoticons? Encyclopedia Britannica. https://www.britannica.com/story/whats-the-difference-between-emoji-and-emoticons