How safe is Asianbabecams?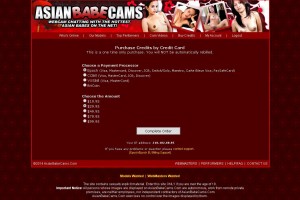 In 2003, asianbabecams.com was up.  But it wasn't until 2004 that they finally took off and boom.
So, yes, they are 11 years old and they are not new.  It is a good sign though coz if they have done anything naughty,  their accounts will be killed by Visa or Mastercard.  For those who think porn sites on internet are all dodgy should feel better if you know that this site is around for some years.
Can I trust Asianbabecams.com with my credit card details?
1.  Don't need credit card to register – When you create a free account with them, you don't need to give them any credit card details.  All you need is to choose a username, password and give them an email address that you can receive confirmation email.
2. All monetary transactions are processed by third party online-payment processing companies like Epoch, CCBill, VXSBill or Bitpay (Bitcoin).  When you click "Buy Credits", you will be sent to a secured connection to one of these payment processing companies to finish the purchasing process.
Epoch.com *CAMSOFT  will be shown if you choose Epoch
CCBill.com *MMSoftware  will be shown on your bill if CCBill is chosen
safcash.com will be shown on your credit card bill if you choose VXS Bill
Do they cheat in Asianbabecam?
The web site seems pretty safe but when they let outsiders to use the site, then general safety rules applied.
For viewers:
Don't let the models talk you into tipping or paying for shows outside the asianbabecam system even if discounts are offered.  You can't complain to the site or get a refund if anything goes wrong.
Be cautious in general – don't lend money to anyone, nor any business deals, "good deals" or "help".
Don't meet models or other viewers in real life.
Be cautious when you do cam2cam.
For models:
I haven't worked there but presume they are paying the models.  Otherwise, no one will be broadcasting there.
Don't meet the viewers.  Despite there are lots of nice guys out there, there are always a few weirdos that you would rather never know.
Still not happy with it?
What about:
Cams.com – U.S. based, part of adult-friendfinder. Loads of Asian too.
Sakuralive (aka DxLive)- Japanese based.  All models are Japanese and the girls look more like indies than studio girls.
Chaturbate – CB is big.  You get Pinays, Japanese, Chinese and Asians in the U.S. too.
These are very big companies and are around for many years.  Check them out! You won't regret.  🙂