Niche is niche – bellybutton (navel fetish)
I often said I haven't seen everything, which is true every time I said it. I am surprised that throughout my cam modelling time, I haven't come across someone who would like to play with my navel. Not that I haven't heard of naval fetish. just that it's not a commonly requested niche, to the extent that I have forgotten about it.
When I was broadcasting at Chaturbate, one of my favorite guys turn up.  I couldn't help and visited his chatroom for a cam-2-cam. Besides his hot body, the other thing that caught my eyes is this:

Belly button, navel. This viewer wants to see the male model play with his own navel. Then I recall that people who like navels like all kinds of stimulation.
Visual stimulation of navel
People with naval fetish like to see belly buttons. Girls in bikinis or crop-tops are perfect. If you like guys, many half naked men will provide the pleasure.
One may also wants to see the person plays with the navel. This includes rubbing the navel with fingers or sex toys. Dribbling massage oil to the belly and belly button is another way to play. A teaser may pour chocolate sauce, honey or ice cream to the navel to invite licking and sucking.
Physical interactions with naval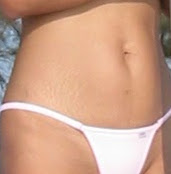 With stimulation mentioned above, one can't help moving onto something more physical. Rubbing the honey or chocolate sauce on the belly button, run the tongue round and round it. Then lick it up or suck it up. Let the tongue feel the shape and the structure of your favorite body part.
Feather play around the belly can be ticklish and will make your partner wiggle, which is erotic at its own form.
Men may want to run his cock on his partner's navel, rub the shaft against it, let the pre-cum flows to it.  And when one can't hold it any longer he will ultimately insert, fuck it and cum all over it.
Watching your own cum splash onto the belly and run into the belly button will be a big turn-on. Run your finger and spread the cum all around it adds to the visual pleasure.
Gay men may get extra excitement from watching his guy masturbates and cums all over his navel.
Sadists and masochists, needless to say will have even more ways to play with it. Imagination is the only limits.
Navel play on cam
I don't think I have seen any naval or belly categories on cam sites. If you do please let me know so that I can share this to the fans.  Chaturbate has a lot of tags featuring different body parts, toys or fetish, but I have yet see one about belly. But there are loads of 18-20 young, fit girls and guys who have perfect bellies I'm sure it's very easy to find one that you like and enjoy watching him/her playing with it.
Although there is no abdomen specific category in most cam sites, you may try Xlovecam – Fetish Female category.  Middle East cam girls on Cams.com will be your other choice.  If you can find one who can do belly dance that would be very seductive and sexy. Having said that, I just realise that Stripchat is targetting to serve many different kinks and fetishes. Stripchat has even gone that far to require models to verify their ability to execute a particular kink before the models can be listed in that category of cams.  You'll never know. Check out Stripchat from time to time and see if naval play is their next cam category.