Many people love to watch amateur cam girls and are often disappointed to find some beautiful cam models being too "professional" or simply not real. Here, I am going to tell you where to find the natural amateur cam girls and what cam sites make it easy to locate them.
Why is it difficult to find real amateur cam?
A lot of the time it's not easy to find the real amateur cam models. Most of them have similar-looking bedrooms or lounges background. And Lovense Lush has been around for so long that it becomes a standard for broadcasting, and so you can't just judge by how advanced or professional the sex toys she uses.
But there are a couple good indicators to find the non-professional camgirls:
"New model" of the cam site.
Broadcasting using her mobile phones
Where to find new cam girls
Many cam sites have a "New" sticker on the thumbnails of the new models, or simply have a category with all the new models. (see screenshots below for examples).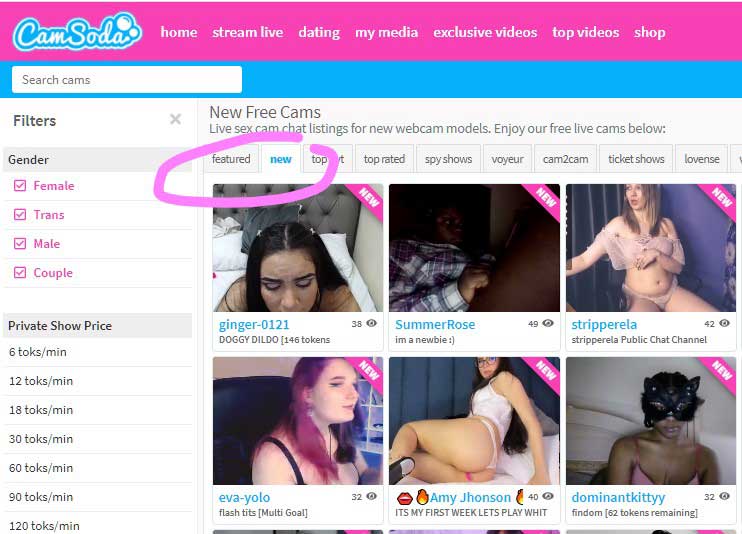 Camsoda's new models can be found under the "New" tab, or check the top right-hand corner of the thumbnails of the model.
---

As for Bongacams, by default, the models' page is sorted by cam-score, which means the best performing models will be shown to you first. Therefore if you are looking for new models, you should find the "Sort by" dropdown box on the top right-hand corner, and choose "New models". Then you will be shown with a page full of newly registered cam girls of Bongacam.
---
Stripchat is a newly rising live chat site that is actively making changes to their site to help both cammodels and viewers to have a more enjoyable experience. Not to mention they are more relaxed with rules. Fetishes that not allowed by other big sites can be found here. See my post about the kinks and fetishes supported on Stripchat here. The ongoing enhancement to the site has certainly attracted both cam girls and viewers to join and so there's no shortage of new cam models on site.
Amateurs broadcast live on mobile phones
The COVID-19 pandemic has been going for more than a year now. Many people have lost their jobs and applications to cam sites for modeling have shot up enormously. According to Stripchat's blog about their site usage in 2020, model applications go up by 45% during the pandemic. Even if we ignore the fact that some existing cam girls will sign up with different cam sites from time to time for various reasons, there are plenty of newbies to the porn cam chat world. And they may not necessarily have the basic equipment like laptops, HD webcam and good lights. So they have to turn to their mobile phone as the broadcasting device.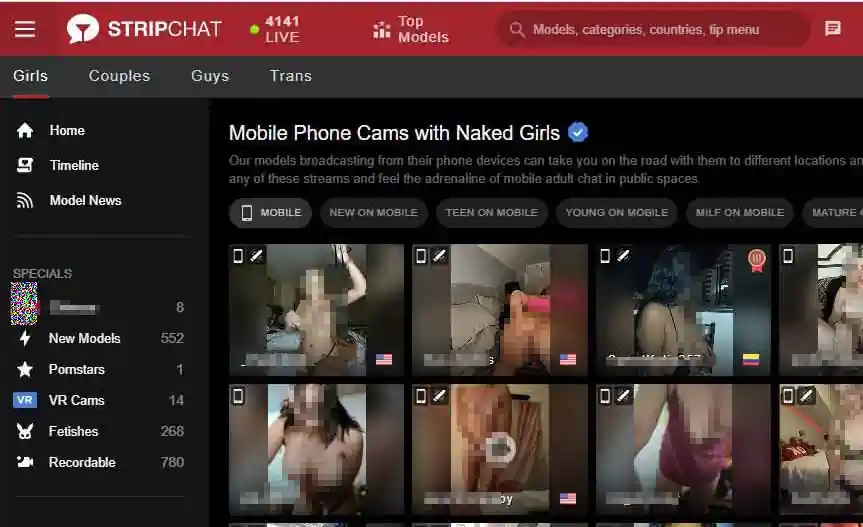 Cam sites that support mobile broadcast
These live cam sites support mobile broadcast. Some may even allow outdoor sex cam and some do not. Some make it easy to search and some don't. Read on to find the best live cam with real amateurs.
---
Stripchat amateur cam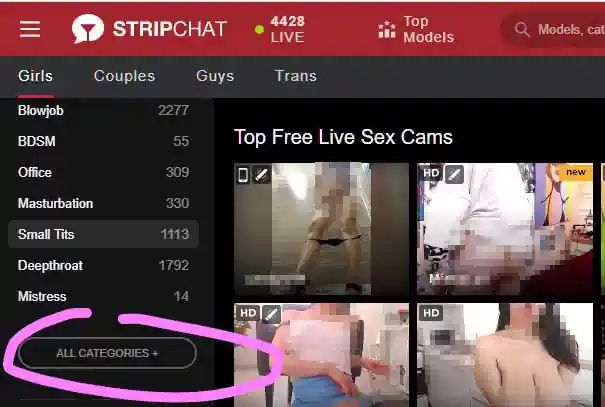 Stripchat is probably one of the best cam sites if you are looking for camgirls that broadcast from their mobile phones. When you are on Stripchat, on the left-hand side of the screen, scroll down to look for "All categories". Click that. Then look for "Mobile". Again, click on "mobile" and you find around 100 amateur cam girls online who are using their phones to broadcast. Most of them will be masturbating and exposing themselves in the bedrooms but some are outdoors.
---
Amateur.TV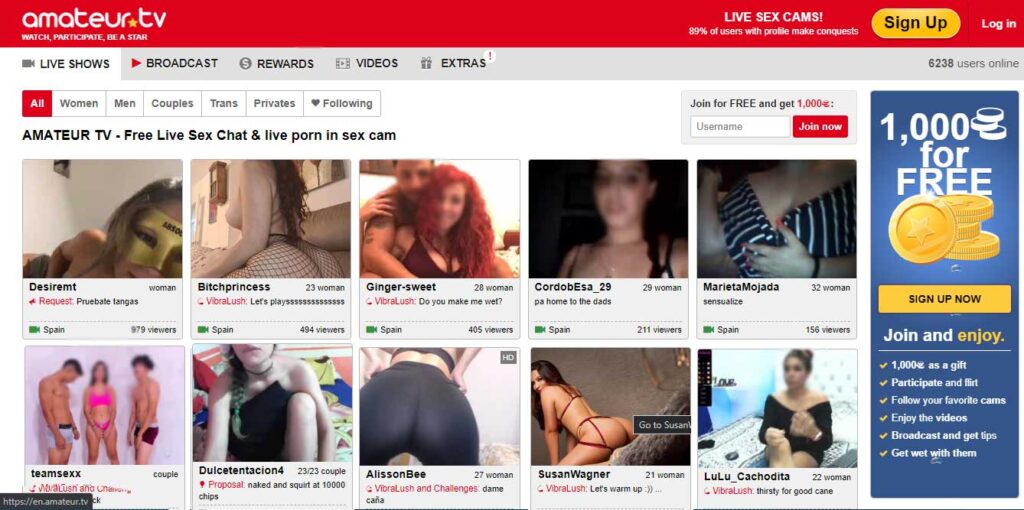 Que es Amateur.tv? Amateur.TV is popular among Mexicans and Spanish-speaking countries who look for "porno amateur". The singing and dancing-loving culture do show throughout the site. Have fun and enjoy watching cheerful amateurs on Amateur TV without costing an arm and a leg. The live cam site uses coins as tips and payments for shows. 100-coins (equivalent to 1 token on Chatibate) is a common tip which means it only cost $0.115 to tip. It's probably one of the cheapest live amatuer cam on the net.
---
---
XLovecam (as known as Sex.cam) amateurs
Just like Cam4, Xlovecam has no easy way of finding out mobile hot girls. You just have to scroll and eyeball to find what you want.

---
Bongacam

Bongacams is also a mobile-friendly porn cam site. It's easy to find girls broadcasting with mobile because right on top of the site, next to the search box, is the tag "Mobile Live". One-click and you can find all the hot amateurs flirting using their phones.
---
Chaturbate's amateur cam girls
Although Chaturbate has officially declared that broadcasting on mobile devices is available, it is almost impossible to search for it on the website. It's not one of the cam categories. No one seems to use the word "mobile" in their chatroom tags. It is not obvious at all.
Conclusion
If you have any better idea about where and how to find the real amateur girls or couples who would like to have fun on cam, do let me know so that I can share it with everybody.