Things to look out for when broadcasting on Amateur.tv
Amateur.tv is similar to Chaturbate in many ways. But if you are used to broadcasting on Chaturbate, Stripchat, or Bongacams, it's slightly different here and you may lose your earning if you don't know about these.
1. Check the payout methods to models
Payment methods available depends on which country do you come from.
If you do not reside in the countries that Amateur.tv has a closer business relationship with, you may have very limited choice to get your money. For example, Paypal and Cosmo Payment are the basic payout for the miscellaneous countries. We all know Paypal is not adult/porn friendly. How long before Paypal finds out and stop accepting their payout. You just don't want to have your money sit in your model account at amateur.tv and can't get it out. So check out your payment options before you put your heart and sweat to perform there.
Payment options available for major countries include Paxum, ePayservice, Crosscard, Cosmo Payment, Paypal, and wire transfer. And you have to earn at least $50 before you get your payout. Not to mention that you have to actively request your payout as there is no automatic processing of payment even if your earning has reached the minimum cut-off.
2. Pricing for tip menu and private shows on Amateur.tv
Amateur.tv seems to be busy and got some traffic but the problem is the whole site shouts cheap compare to other freemium sites like Chaturbate and Stripchat.  Is Spain a low-cost country? I don't know.
Viewers perceive lower tip amount than the other cam sites is fine
We know that Chaturbate and Stripchat gives us $5 for 100 tokens and amateur.tv gives us $5 for 10,000 tokens. You may say we should just add "00" to the price on our tip menu. That will fix the problem. But please look at the default tip amount they suggest for for viewers.

The trouble is the default tip button is 500 tokens on a desktop computer, and then there are quick tip buttons for 100, 200, 500, 1,000, and 2,000. If the viewers don't bother to click on the down arrow button next to the "500" to change the tip amount, 2,000 tokens is the highest on that list. And 2,000 tokens are like 20 tokens on CB or Stripchat which worths USD1. How much will you do for 20 tokens on CB or Stripchat? Very little. But without clicking into the detail tip pop-up, that's the highest tip you will get from the guys.
It's even worse on mobile phone. There is a single button "Tip 500" with the down arrow next to it, no room for the other values. When the guys is jerking with one hand, and there is only one hand left to click on the tip button, 500 is more convenient than going through the multiple clickings to pay more.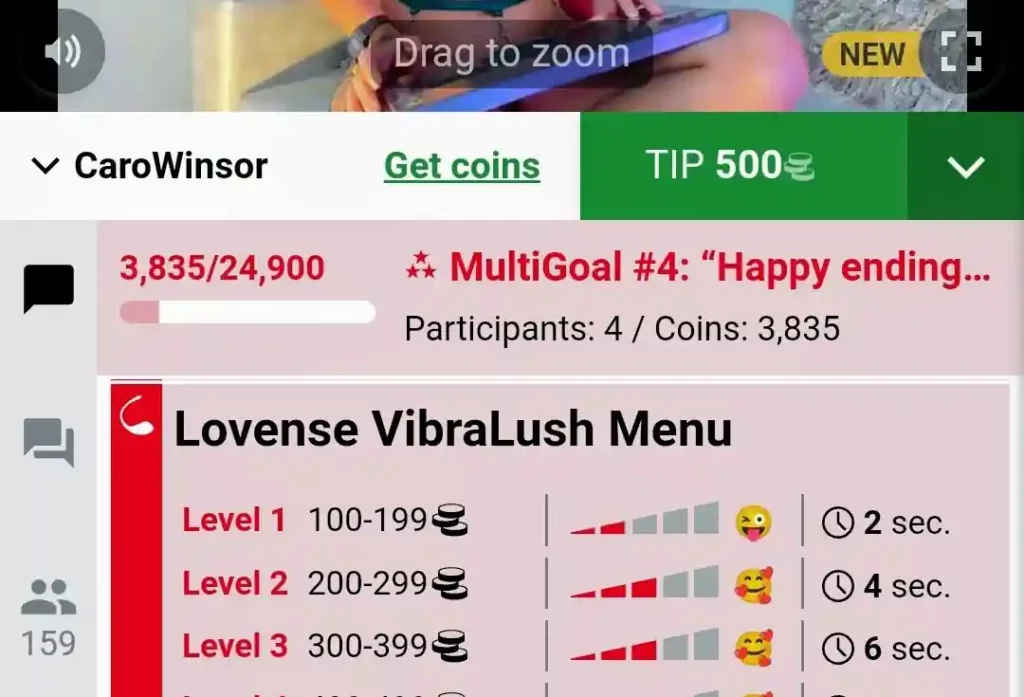 There are higher preset tip amount but the viewer has to click the down arrow next to the default green button that says "500". It then opens up more options.

Existing models on Amateur.tv are willing to perform for less
I wonder if most of the models are Spanish speaking and are not familiar with other freemium sites and the scale of pricing. They seem to be content with performing at a substantially lower rate than the other cam sites like Chaturbate, Bongacams and Xlovecam. See some sample Lovense Lush tip menu. They called it Lovense VibraLush menu.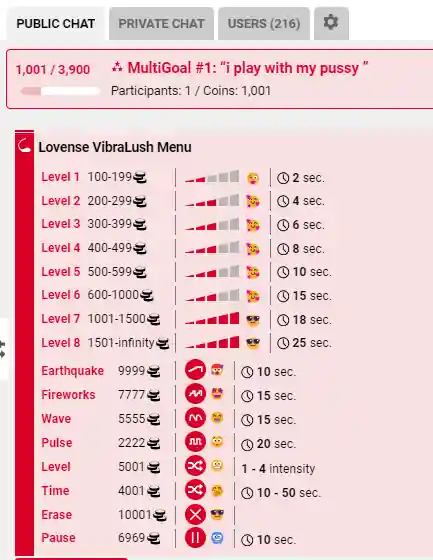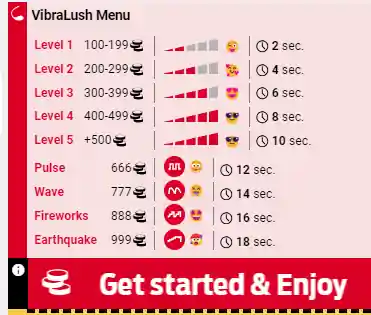 It seems to be the default price settings of Amateur.tv's Lovense Lush menu. As you can see, models are willing to get 10 seconds of medium or ultra high vibration for just 500 tokens (which is equivalent to 5 tokens on CB and Stripchat, seriously?!)
What about the multi-goal of playing with pussy for just 3,900 tokens? Most models won't even flash the pussy for 39 tokens on Chaturbate!
Therefore, if you are used to the big cam sites' pricing of tipping, it is not as simple as putting another two 0s on the tip menu to match. You have to be very talented for the guys to cough up a lot more tokens on Amature.TV to pay you the high price.
Meanwhile, if you are an Amateur.tv models and would like to be paid more for the same show, you may consider joinging these cam sites and get paid more.
3. Rules, rules and rules
Don't mess with the rules or you may get your account killed. You mustn't:
Include personal details for guys to contact you.
No mentions of Skype shows
No minors, not even sound of the minors
No REAL incest (yes, their terms and conditions use the word REAL…)
4. If you don't speak Spanish and you would like to broadcast here
Amateur.tv is owned by a Bacelona-based Spanish company called VTS Media. The whole site was built in Spanish first and translation was added later. Therefore, it is not surprising that there are many informational pages and not translated, or some of the translation is a bit off.
For example, the setting instruction for OBS setting is in Spanish only. I have to find the Spanish page and translate it in Google.
There are English translations that look peculiar until something happened and you found out what they actually mean. For example, see this screenshot of a viewer.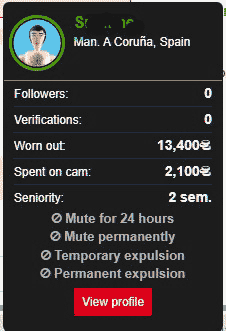 This is a quick view of one of the viewers in my room. But the translation in English is odd. Finally, I found that:
"Worn out" is the amount the coins that he has now
"Spent on cam" is actually the amount that he has spent on you. I noticed that before he tipped me, "spent on cam" was zero. I thought he has never spent on amateur.tv. Until he started to tip me then I found what it actually means.
Games on Amateur.tv
When you are broadcasting, you can make use of the "games" (Chatrbate and Bongacams call them apps or bots) to liven up your room. They include:
Proposal
VibraLush
Multi-goal
VibraLush with Challenges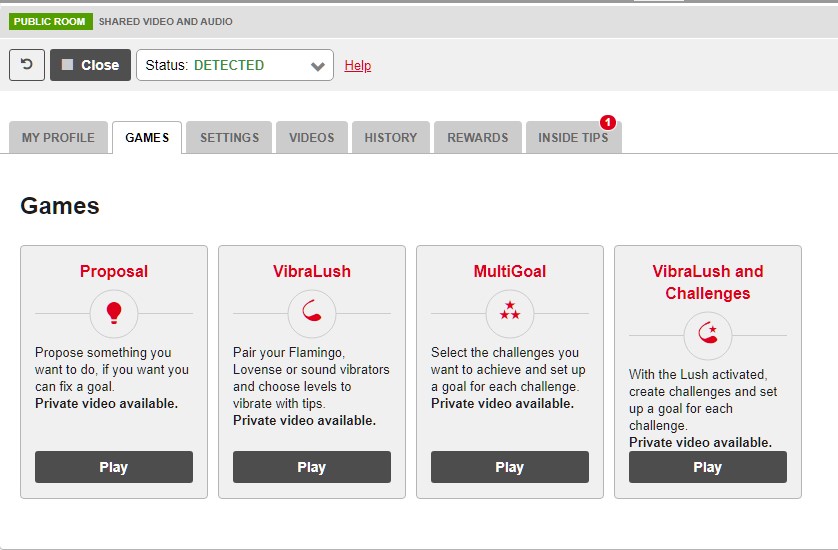 Proposal and Multi-goal are basically goals. I can't help reminding you again that you MUST go to the game tab and confirm you "proposal" or "multi-goal" so as to conclude the game, honor one of the contributors so as to get your earnings.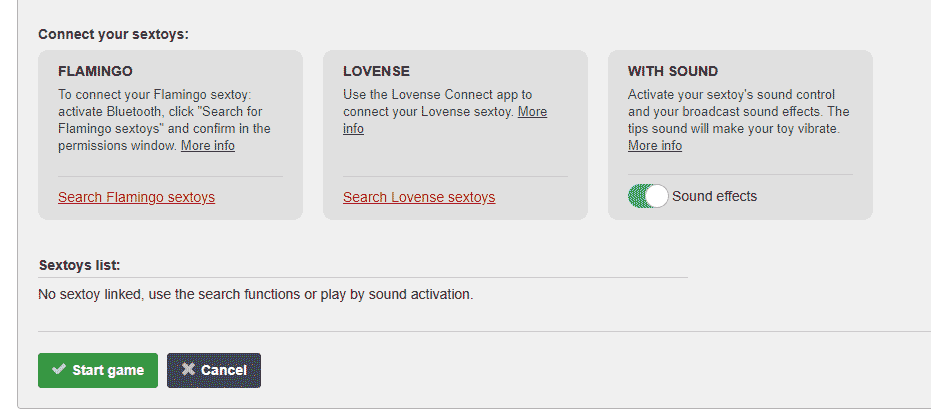 VibraLush and VibraLush with Challenges are based on the interactive toys like Lovense Lush and Flamingo. If you have a sound controlled sex toy you can use that under the "with sound" category. By turning on "sound effects" on the site, your toy will react to the tip sound, like the Ohmibod in the early days.
Before you change games or stop broadcasting, "complete" your VibraLush to collect your earning. I have set up a quick VibraLush game using the system default, and let the first guy tipped a bit so that I can complete it and show you what it's like when a game is completed.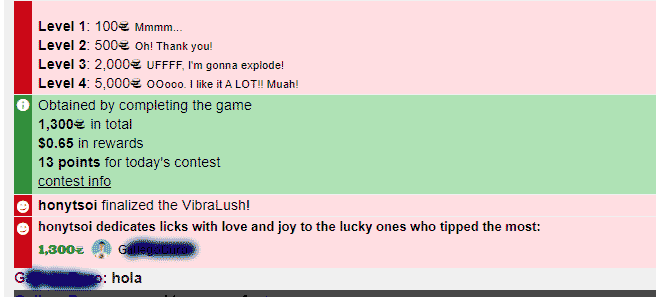 As you see in the screenshot, the highest tipper of that game will be chosen as the lucky one. He will receive a notification that you have concluded your game and he is the top winner. So, it is very likely that he will come back to your room and expect lots of thanks from you, or a show if you have set up proposal or goals.
If you have more good tips about broadcasting at amater.tv, please leave me a message or email me. I will include them here.