How to start broadcasting on Cam4?
Broadcasting at Cam4 is pretty straightforward.  As we all know, we have to have an account first.  Similar to Chaturbate, Cam4 is another site that allows one account to do all.  You create one account and you use it both for watching and broadcasting.  And creating an account is real easy.  See my post about registering here.
Broadcasting there
How to set up your chatroom
1. Click "Broadcast" at the menu near the top left-hand corner.
2. You will be asked to allow them to access your camera.  Just click "Allow"
3. Set up the topic of your chatroom and types of room: 1) Solo  2) female-female or  3) male-female.  And most of the time you will be using the public mode which makes your cam opens to everyone and be listed in the "who's online" directory.
Unless, you do what some Chaturbate cam girls do, which is to give out the password for a password-show.  You may have arbitrary rules like:
– those who have tipped more than x tokens this session or
– those who have sent you gift cards or virtual gifts
This is another way to encourage tipping and be fair to the real tippers vs freeloaders.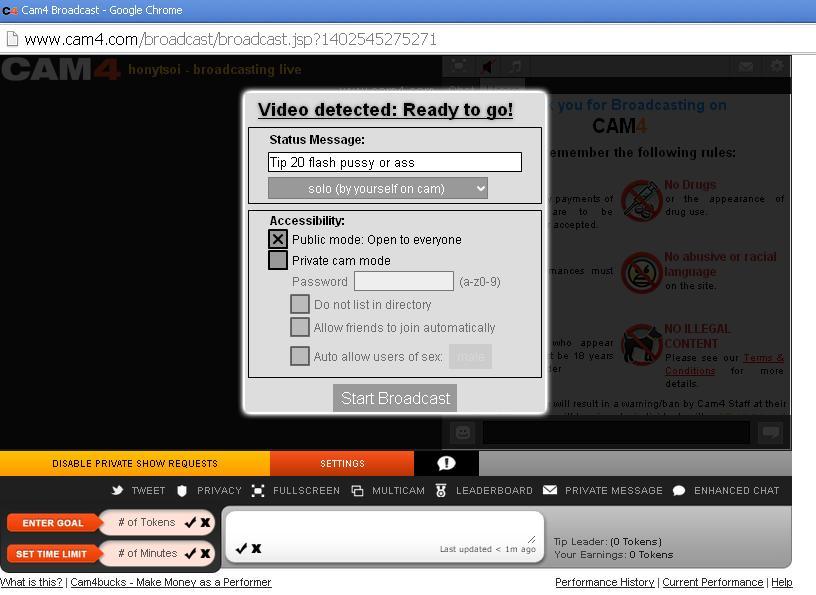 4.  Then click "Start Broadcast" to begin.
5.  You may want to set your price for a private show, with or without a spy show.  You earn $0.1 per token so 24 tokens/min gives you $2.4/min or 30 tokens gives you $3.
6.  Notice that tabs on the top right-hand corner.
–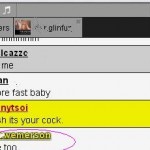 Chat is the public chat room where everyone sees what you type.
– Users shows you how many registered members and how many guests in your room.  Names in yellow are Gold Members but there seems to have no way to differentiate people with or without tokens.  Correct me if I am wrong.
– Private messages – Gold members and your friends can send you private messages.  And they will appear next to the Users tab.  (Seen screenshot above)
7.  Tipping – When you are tipped, you will hear the short beeping sound plus a quick note at the top left-hand corner of your screen.  Though the note disappears so quickly that I often miss it and didn't see who has tipped. (I wasn't even split camming and still miss it!!) And there is no quick way to find out who is your latest tipper.  You have to go to Cam4bucks and dig deep into your earning report to see each transaction.  It takes far too long and far too not practical.  I do believe it's important to thank the tipper properly, preferably saying or including his name in the chat.  But Cam4 is not helping me to do that.  In a way, that means I don't even know who should I pay more attention to if I don't know who's been tipping!
8.  There is no "Stop broadcasting" button.  Just say bye to your room and close the window.
How do models receive the earnings?
If you have received tips or you have done private shows, how to receive payment? It requires you to submit the model release form and prove your age and identity.  Have a webcam, 2 identity documents ready and I will walk you through with this post on how to verify your account and receive earnings.  It took me less than 24 hours to have the account approved. And you can add new models to your account any time as you wish.
Have I missed anything that's worth mentioning?  Leave me a message and let me know.
---
If you speak Spanish, there are more options for you to cam.
Bongacams is a well-established cam site and they have a model center in Spanish, so if Spanish is your first language, there will be less struggle for you when you manage your model account. Check out my post about broadcasting at Bongacams here.
Amateur.tv, by comparison, is a lot smaller than Bongacam, so there is less competition among the models. Amateur.tv is in Spanish by default but English is supported too. I've managed to gather some models earnings data of amaterur.tv.  See how much a top model can earn on amater.tv here.
Go to Amateur.tv