In 2014, I did a Google Trends search to find out the popularity of some of the up-and-rising sex cam sites. Eight years later, the situation has changed quite a bit, and there are certainly new rising cams that have lots of cam models and better features for you to watch, chat and masturbate with. Here is what I found in Jun 2022.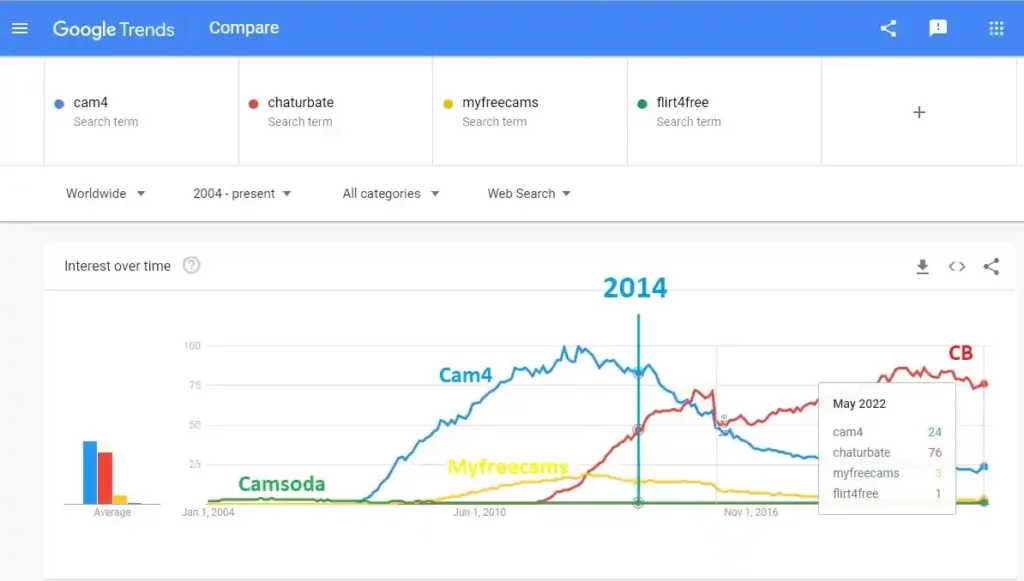 As you can see, in 2014, Cam4 was doing very well, and Chaturbate is about one year old but is rising. But Cam4's peak didn't last for long. Chaturbate simply goes up and up while Cam4 follows a download slope. Meanwhile, MyFreecams and Camsoda are not doing that well either. So, is Chaturbate the winner? Are there any other emerging sex cams that we should look out for?
We know Streamate, Cam4 and Bongacams are quite "aged" and established cam sites but surprisingly they haven't continued to grow and take up a bigger market share. Stripchat which started in 2017 is continuously growing. At the moment, Stripchat has just caught up with Cam4 and it looks like it is going to continue to expand. As I broadcast on Stripchat from time to time, I do see new features being added to Stripchat for both models and viewers. Stripchat probably has the best search among the sex camsites. It doesn't just search for the model's name. It searches everywhere within Stripchat. When I said everywhere, I mean they look at the chatroom description, they look at the models' tip menus, and tags. If you are looking for models who will pop a balloon while cuddling a giant teddy bear, you can probably search this in Stripchat. I have many reasons to go to Stripchat simply because the site is so much easier to navigate and has plenty of features for the adventurous ones to explore. There is even conveniently a record button on the screen for you to record a model's live public show for a small fee. All legitimate. Not to mention other banned actions like peeing or broadcasting in public are all allowed in Stripchat. Check it out.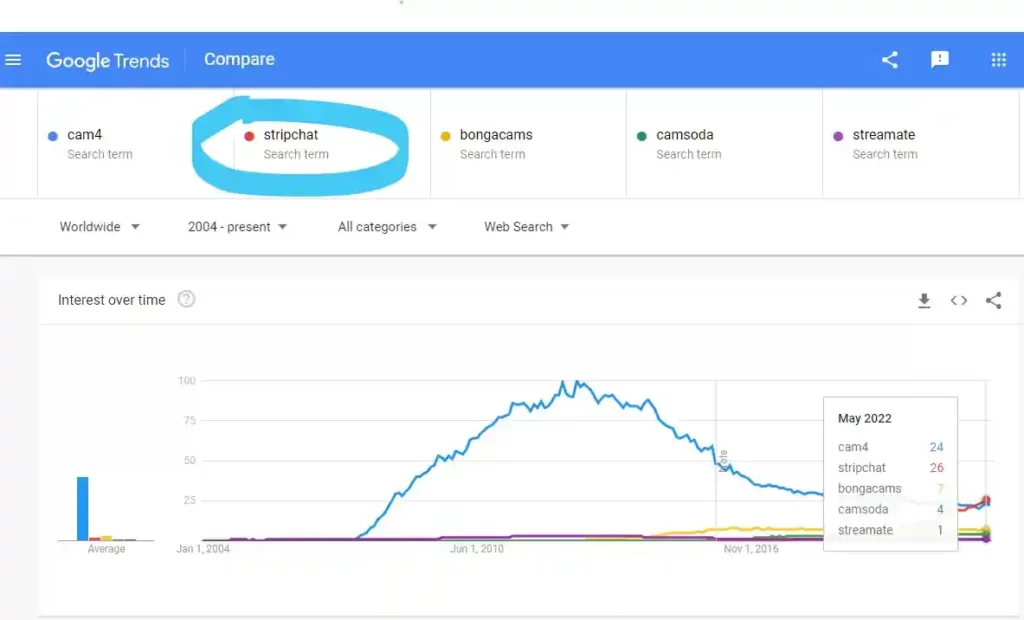 In the above chart, I have to skip Chaturbate because its scoring is so high that everybody else's data will not be readable.
---
Here is the trend I found about some of the best webcam sites in 2014.
I took a quick look at Google Trends comparing different webcam sites and thinking about which one shall I try next.  Then I think of Cam4.  To my surprise, Cam4 is not just leading.  But leading by a lot!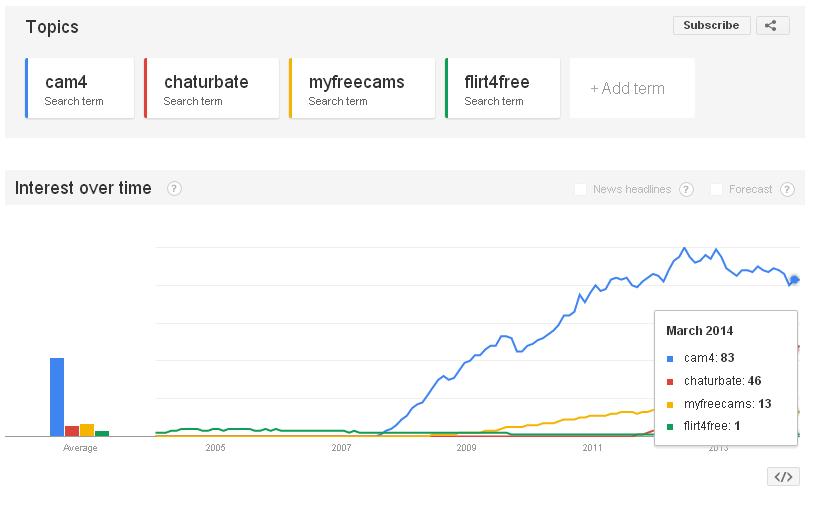 As you can see in the graph, Flirtforfree and MyFreeCams started a long time ago while Chatubate and Cam4 are comparatively new.  But the old ones failed to pick up.  I was about to say, Cam4 has more traffic than Chaterbate, MFC and Flirt4Free added together, which is true.  Except that Cam4 has already reached its peak in 2012.  In 2013, it dropped a little bit, possibly to CB, and now reached a plateau.  But still, Cam4 is ahead of the others.  So, what's good about Cam4?  Let me go and have a look and find out more about it.
I wonder if it has more indy cam girls or a mix of indy and studio.  In terms of earnings, which of these sites are better for the girls?  Drop me a message if you know anything about them.
<3