I remember Sam is one of my earliest viewers and tippers when I first joined Chaturbate.  He always likes my milky tits and he likes my ass.
Two weeks ago he was on a business trip and so he turned up in my chatroom, not at his usual time.  And he was so kind to send me a USD100 Amazon.com gift card!!!  It's one of my Amazon wish list items he chose the gift, paid for it and Amazon.com see to the rest and send it to me.
My amazon.com Shopping Experience / Review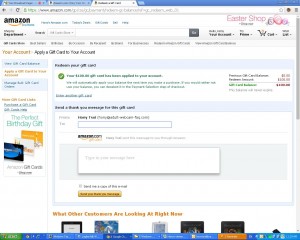 It started with an email from amazon.com telling me that a gift card is sent by my friend and is available for redemption.  The redemption process is very straightforward.  I click through the link in the email, log in to my Amazon account and click again to add the USD100 to my account balance.  Now I am ready to shop!
As Sam is a bottom fan, all the things I chose are anal toys.  I am planning to either give him a password show on Chaturbate putting on 5 buttplugs one after another or use the toys in the public chatroom if he would rather share.
Yes, I managed to get myself FIVE sex toys including DHL Express shipping from the U.S. to Asia.  Those who don't live in a country where there is a local Amazon know that the shipping costs can easily cost USD10 to USD20 per item.  That's my problem initially.  One ass plug that costs USD20 cost me about the same amount for shipping from vendor A.   Another sex toy from vendor B charges me USD10-20 again for international shipping.  I would have been paying USD30 to 40 just for shipping!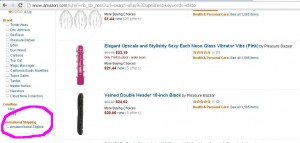 Then, by chance, I picked an anal bead that was sold through amazon.com directly and it said it was AmazonGlobalEligible. Turn out this is a lifesaver for me!  Anything under amazonGlobalEligible will ship internationally.  You should check it out to see if your country is eligible for this shipping option.  This is how I manage to buy 5 anal toys without spending most of my gift card on shipping.  It's not just buying your stuff from one vendor.  But from Amazon directly!
Still curious about what have I bought?  🙂
I've got:
– Prisms Nadi Glass Anal Plug: $21.12
– Prisms Erotic Glass Agni Anal Plug:  $13.96
– California Exotics Shane's World Anal 101 Intro Beads, Purple: $7.76
– Doc Johnson Mood Naughty 2 Small Plug, Blue:  $9.05
– Master Series Ravens Tail Double-Ended Anal Plug:  $20.55
With $25 shipping cost.
I ordered them on Monday morning and the delivery service is FANTASTIC!!! Both Amazon.com and DHL are extremeeeeely efficient.  My gifts arrived on Thursday morning.  We are talking about from the warehouse of amazon in the U.S. to Asia!
Still, want to see my parcel?  You may watch me unpack my gifts here.
I know there are other options for a wish list too, like Victoria's Secret though I haven't tried them yet.  Do drop me a message and let me know if they are any good.
xo