What Special Features have F4F got?
For viewers
1.  Your username – You can have multiple screen names in Flirt4free.  I think this is unique among all cam chat sites.  VIP members can reserve up to 10 usernames.  You can change your default username under "My Account".  You may also change it when you are in the chatroom.  There is a Change link next to your username at the top right hand corner.
2. Super-voyeur – if your internet connection is fast enough, you can have up to 6 voyeur cams open all on your one screen.
3. Bitcoin – If you want to pay anonymously and you do have Bitcoin, then Flirt4free allows you to buy credits with Bitcoin.
4. Your wallet and virtual bank with F4F – you can buy credits in bulk to get big discounts.  By default, the credits go to your wallet. But you should always move most of your credits to your bank coz in this way, you have a better control of how much you spend each time.  All tips, gifts and shows' costs deduct from your wallet.  You move more credits into your wallet when you plan to watch a show or want to show your status to the models (models know if you have >100 credits or not).
5. Auto-reload – If you agree, you may pre-set a no. of credits to buy when your credit balance falls below your pre-set level.  This saves you from the hassle of entering credit card details to buy more credits in the middle of a private show.
6. email and virtual gifts – You may send internal email to the models and if you want, you may send them virtual gifts too.  Some gifts cost credits, some don't.  Just another way to build good relationship with your favorite.
For models
1.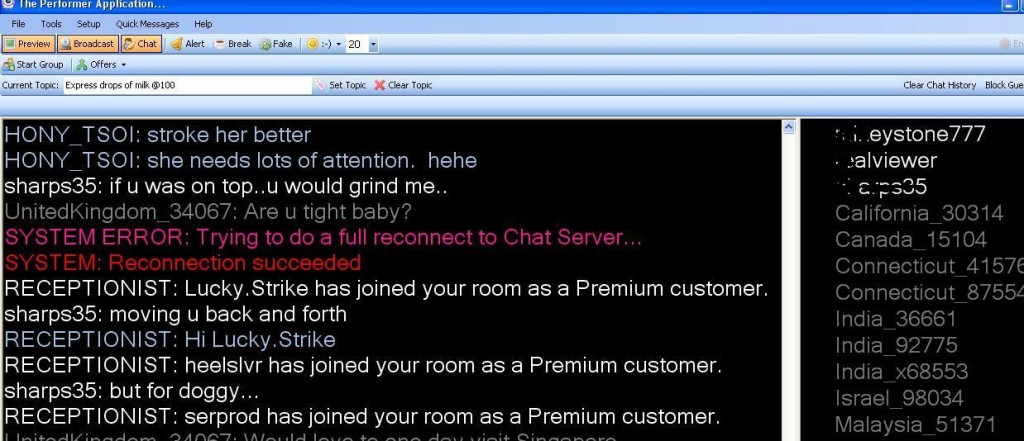 Receptionist – Receptionist is a powerful tool.  When you login to your Control Panel at studios.vs.com.  Go to "Manage" and choose "Room Receptionist".  Here, you can set up different actions to take when each different types of member come into your chatroom.  From VIP, Premium member, Basic member to guests, or people who paid you before, people who have buying history to someone who has 100+ credits in their pocket, you may set up notification to yourself and whether to have the Receptionist automatically greet them, and greet them with what wordings.  See example below:
2. Phone sex – They called it FlirtPhone here.  Having a phone no. provided by F4F for your fans to call you is very attractive.  And of course the viewers will not know your real no.  Though it's not setup automatically.  You have to go to studios.vs.com, under "Manage", choose "FlirtPhone".  Click on the Choose country" on the left to generate a no.  You can even have a private extension for a specific member.  And the usage of it is all up to your imagination –  fan club members only, highest tipper of the day/week, winner of games in your chatroom etc.
3. email and virtual gifts – Not all cam sites support internal email but F4F is one of them.  Viewers and models can email each other easily in the internal email system without worrying about revealing real life personal email or have to create a cam-specific email address.  Virtual gifts are free for models so you may send your viewers hugs, kisses to wine or car.  Use it wisely, not once a day.  Make him feel special.  Make me feel you are thinking of him even when he is offline.