YES!!! I am thrilled.  Another tip-to-request for wearing a butt plug out and take public upskirt pics. This is what happened. I was taking a break from showing on  cams.com and moved over to Chaturbate,
After a little chat with a guy on Chaturbate, he would like to see me do something anal.  I thought about it and offered butt plug insertion. I have this stainless steel butt plug which was not shown on my webcam before.  He accepted the proposal and tipped.  I put the heavy butt plug in my ass with a nice close-up.  Pumping it in and out for a little while.  oh.. it feels so  good and so naughty!
While I was pumping my ass,  I mentioned to the crowd in my chatroom that a few weeks ago I worn a jewel butt plug out to have lunch and was asked to  post pictures in twitter to prove. Some of the people have seen it in fact.  It was nicely done with clear restaurant background and customers.  Have you seen it in twitter?
Soon, this viewer was interested too. Only that he wanted me to go out without wearing shorts or panties underneath this very short white top.  This top is pretty long though it's not quite long enough to cover my ass.  As you can see from the first picture. I have to keep pulling it down every few steps so basically it just draws more attention from people. Lols.
I went to a restaurant for lunch.  The restaurant was quite crowded and I was surrounded by quite a lot of people.  Taking pictures like this is really hard.  I try to take a upskirt pic under the table but it's not very successful.  It doesn't show the butt plug!  It only shows my pussy!
I pull up my skirt at the front and trying to do a selfie from various angles and to no avail.
In the end I have to lean the camera on the next chair and set the timer so that I got time to adjust my position and took this picture.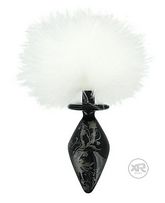 After lunch, I went to do a bit of shopping.  While no one is watching closely, I put the phone camera on the floor, again with the timer on and that's how I got this upskirt pic in a drug store!
I am looking forward to more naughty challenges!  I found tail butt plugs so cute I would love you to send me a bunny or fox tail plug to play!
Meanwhile, if you haven't joined Chaturbate, join now and we can chat and play online!  Or if you are a member of cams.com or jasmin.com, we can play there too.  See you!
<br>
See me @Chaturbate