Tips for Camster Viewers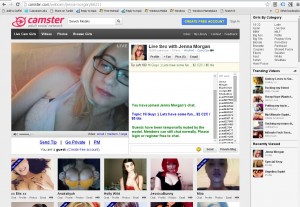 Here are a few tips for people who use Camsters.
Camster is a free webcam chat site that you can get away with not joining for a little while.  You can go into the cam girl's chatroom without registering first so that's pretty cool.  Though it doesn't last long and you can't say anything to the model. Very soon you will be prompted to register.
To register/join is straightforward. It's pretty much the same everywhere – username, password and an email address that you can receive their confirmation email. Credit card no. is required for age verification though there will be no charge at all to the card. But I think lots of people stop here.  I think the best way to go camming is using prepaid credit card. It's not traceable by wife/gf and you lose minimum if anything goes wrong.
Good news is that there is cam2cam (aka c2c) in Camster.  If you love to be watched by the girl when you jerk off then Camster is one of your choices.  Other cam2cam sites include Chaturbate, cams.com and Bongacams.
Email the model.  In Camster, registered users can email the model which is a feature that lots of people love.  Unlike Chaturbate you have to leave her an offline tip, you can send her an internal email via Camster. Other cam sites that support messaging includes Flirtforfree and Camcontacts.

Squirting cam girls

– on the right hand side of the site there are various niches.  One of them is squirter.  If you are hunting hard for girls that squirt you may find someone special here.  Alternatively, you may go to Chaturbate and search tags for squirting.  Either way it works!