Tired of stupid guys who fake a tip and demand flashes or show? Bongacams has the solution.
If you ask any camgirls, surely they can tell you how some silly guys fake a tip and ask for flashes or even password shows from time to time. It is even more true for models who have just joined a cam site and are not familiar with how things work and whether notifications or confirmation will be sent to the models or not.
During the COVID-19 pandemic, there are plenty of people who either can't go to work because of the lockdown or even lost their job.  Camming is a viable way to earn some money when you are home.  That means there are many newbies broadcasting on cam, and those who think they are being clever, will always try to fool the new models.
Sending fake tips to request password shows or flashes on cam
I have come across these fake tips multiple times personally.  Here is the post about how someone fake "tipped me 100 tokens" on Chaturbate and "rightfully" asked me to do what he requested. Luckily the emoticon was of a smaller size and didn't match with my chosen font size and so it stood out. In my post, I talked about how to verify if the tip is real and avoid being cheated. Check it out especially you are new to camming.

I know I was not alone.  As soon as my post was out, there were feedback and comments about their own experience and how they deal with it.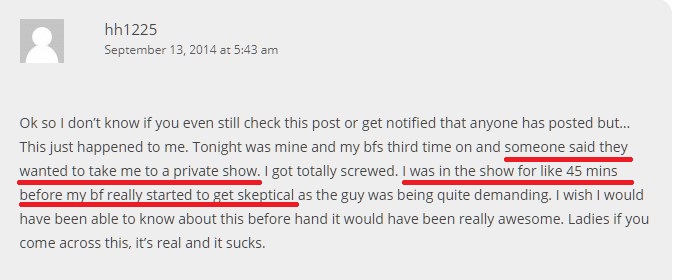 Bongacams took action to help models
This problem is not new.  As you can see from the above screenshot, we had that in 2014 and before.  But it is still good that some sites like Bongacams finally took some action to prevent the models from being cheated.
How to know your tips on Bongacams is real?
When broadcast with Bongacams, the tips now come in a pink strip with a tick at the end (see picture).  And it arrives in a new line and starts from the leftmost border of the chat area.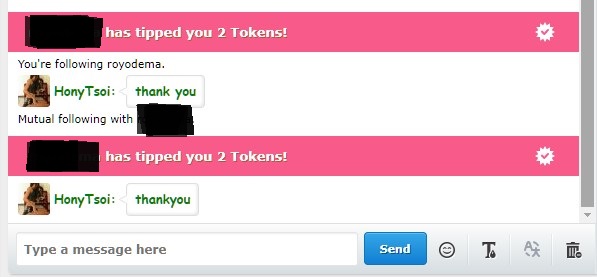 If someone tries to fake a tip with emoticon, he can utmost send it next to his username.  Therefore, if you see that 100 tokens tip appear next to his username, you know it's not real.
Double verify your tip earnings on Bongacams
If you still feel unsure, go to the user list on the right hand side, click on the username of the tipper. There should be a box like the picture below showing his token balance and also the total amount of tips you received from this member. If the amount of tokens received is zero or it's less than what you think then you know there is something wrong.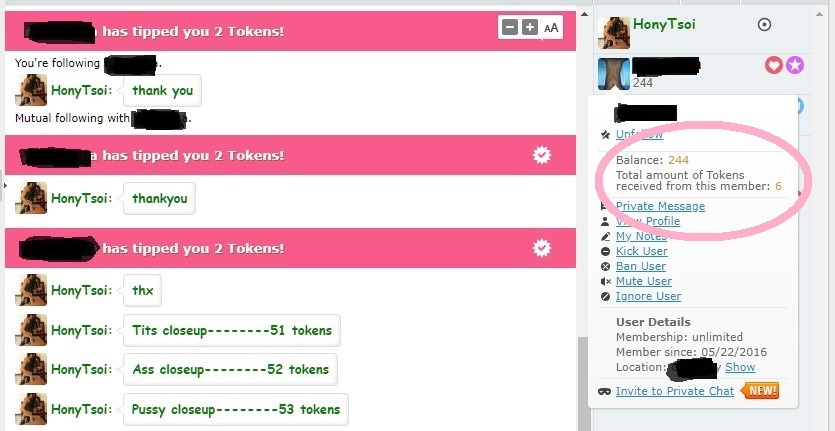 If it is still too confusing, then:
Open a new tab and go to

Bongamodels.com

(you should already be signed in if you are broadcasting)
Look for "Statistics" on the left hand side, click on the downward arrow next to it and it should expand
Click "

General stats

".  It should show your earnings of this period by default
Change it to "

Today

" instead of "This period"
Under "

Tip, gifts, video earnings

" click the downward arrow and you should see every single tip you received with date and time. This is the ultimate clearest view you can get for your tip earnings (see picture below)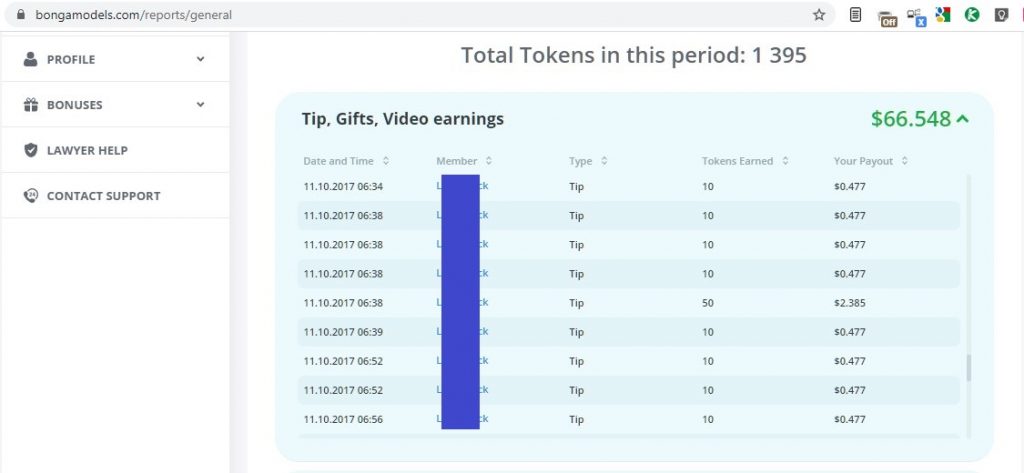 Report to Bongacams' support
Last but not the least, don't forget to report the scammer to the Bongacams' support if you come across them.
Well done Bongacams! Keep up the good work to help everyone to have a safe and fair camming environment.