Nowadays, people are staring at the phone wherever they go and whatever they are doing.  Even dating couples are playing with their phones on their date instead of staring at one another and saying sweet words.
A few years ago, Google is already pushing web publishers to make mobile-friendly web sites because that IS the trend. Mobile devices are the way to go.
Google is not the only one who notices it.  Many cam chat sites have rolled out their mobile version many years ago, despite smartphones were just barely becoming popular.  Cam sites like Camcontacts, Chaturbate, Bongacam and imlive are mobile phone friendly.
As I said, most cam sites developed their mobile version years ago.  They were to make sure they are phone web browser friendly but the user interface is pretty much the same as the desktop version.  Trying to move the screen around so that you can get to the text box to chat while you also want to watch that hot pussy is not that fun, no matter how big your smartphone's screen is.  A new user interface for mobile device is required.  Among which, Bongacam's mobile version seems to be pretty neat and easy to navigate. It's more like an app than a desktop site wraps in a "mobile" wrapper.
Bongacam Mobile Site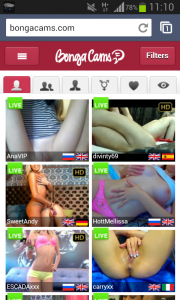 The tabs on the top are categories of chat which is quite representative and no needs for words.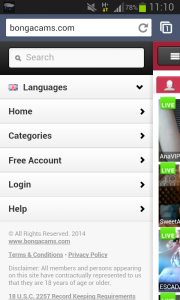 Tap on the three little white bars on the top left corner, the menu button, and you get to:
* choose language
* browse per categories of cams
* get a free account if you don't already have an account with them
* login
* help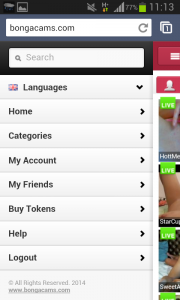 Once you have logged in, the menu option is slightly different.  You can:
* check your account details
* look at your Friends list
* buy tokens
* logout
This is the model's chatroom on the mobile phone.
Most functions you need are all in one screen and you don't need to scroll.
* Profile and model's photo gallery are one click away
* text chat box is near the bottom of the screen
* model's and other viewers' chat message appear at the bottom of the screen.
* "Make friend", "Buy tokens" and "Make tip" and "Private chat" are crucial and they are easily accessible.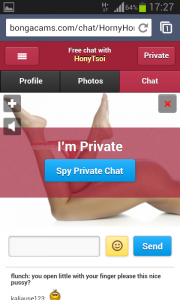 When the model has gone into a private chat, there is an option of spying her cam.
All in all, Bongacams mobile version is easy to navigate with many options all one click away. You can keep your eyes on the video most of the time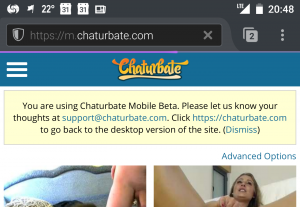 Chaturbate Mobile Site
I can't recall when did Chaturbate start to launch their mobile version of cam. What's not encouraging is that it's still at beta stage and are still inviting feedback. If you have noticed any problem with it, please do let me know so that I can warn the other users. 🙂
Below is a screen capture of a chatroom via m.chaturbate.com on my phone, before login.  In a way, it's simple. No ads.