Lovense app update available 2017.04.21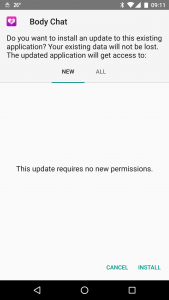 I picked up the phone, turn on Bluetooth, run the BodyChat app to get ready to go on Bongacams and wasn't pleased to find that I have to update more apps and/or browser to use the toy.
The Bodychat app is not as straightforward as ordinary apps like Facebook or Snapchat you found in app stores. Maybe due to its sexy nature, the Bodychat app for using with all Lovense smart toys is not qualified to be listed in the standard app stores and users have to download and install it separately.
Luckily, when Lovense prompts you to get the upgrade, they provide very detailed instructions on how to do it. But it doesn't mean it's not tedious.
First, you have to turn off the security of your phone so that you can download and install an app not from an official app store (which normally is not recommended).
Then you have to download the app.
The instructions said it would pop up a screen like the one above so that you can proceed with the installation. But it didn't happen in my case. I have to look for the app packet Bodychat.apk (typically in your Download folder) and run it myself. Other than that it's rather uneventful. 🙂
As for the Lovense browser, I have downloaded it before and used it a few times. But I can't see much problem using Chrome either so after a while I just don't bother and stay with Chrome. Have you got any problem using Lovense on cam with other web browsers?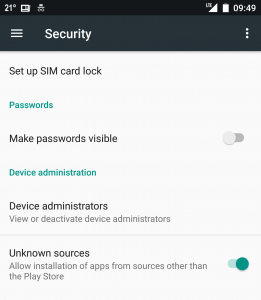 While i am writing this post, I've just realized that I haven't turn on the security settings back on my phone!! It would be good if Lovense can prompt us to turn it back on after the installation.
Have you secure your phone after the Bodychat upgrade?
Meanwhile, I've just noticed some more cam sites have partnered with Lovense and that means there are more modelling choices for us with the toy. Here's the new full list (up to Apr 2017):
Cam sites that supports Lovense's Lush, Nora, OSCI G-spot vibrator (in future) and more
MFC (Myfreecam)
Eurolive
Camsoda
Naked
iFriends
Stripchat
MyFetishLive
Camgasm
Have you noticed which sites have the best viewers for Lovense? For me, Chaturbate is still the best, guys in Bongacam somehow are much more mean and cheap. Let me know if there's any better one.  Thanks!
Btw, I just noticed that my Lovense cable's plug is getting corroded. And it has made charging the toy unreliable. It may charge for a few seconds and the light went off.  Time to buy a new one I think. It's quite expensive but luckily it pays off very quickly. lol