Babestation is a UK based company which specialized in glamour modeling and is now extending to the cam chat world. If you already know of Babestation.tv, then Babestationcams is just another name for the same thing. If you choose to watch one of the models on Babestation.tv, you will be sent to Babestationcams.com.  I am not sure why they bother. Unless they have a different plan for the ".tv" site. 
Although it is UK based,  ladies of any nationality may apply. Therefore, even though the site feels very British (bonus and credit prices are specified in £, for example), you will see cam girls from other countries, including Asia.
Can you chat on Babestationcam without registering?
I am afraid there is no cam chat or text chat for people who are not registered. You can still browse the "online girls" section and click through to see their profiles. But that is all you can do without registering. Under the girl's profile picture, there will be a big pink button to prompt you to "Register to get chatting".
Is there any free cam chat in Babestationcams?
It took me some effort to find out the answer.  As I said, when I was not registered, I couldn't see any live cams. Therefore, I took the next step to create a free account and see how far can I get with this free but registered account.
I registered with a real email address because these days almost every site wants to verify your email address before it is activated, Babesstationcams has no difference. But at least, credit card information is not required to register.
To my disappointment, after I have verified my email address with Babestationscam and have a proper account, when I click through those cam girls' profiles, there is still no live cam. All I got are the static pictures of the models' galleries.  If there is no free preview of the girls anyway, you may as well go to Camcontacts. It's also a UK based cam site, the private cost per minute is much cheaper, and if you are into BDSM, I heard they have a good collection of mistresses there.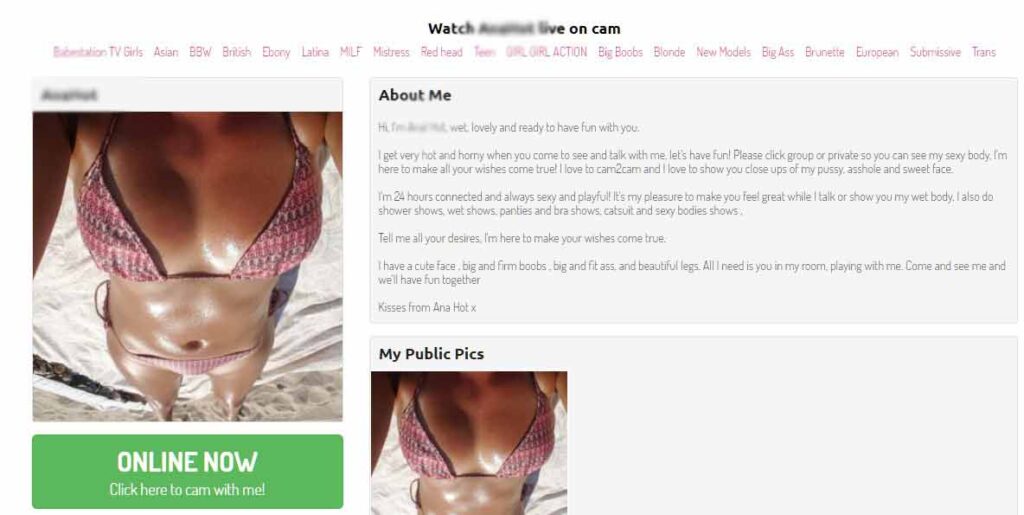 The green "Online Now – Click here to cam with her" takes you to either a group chat or private chat if you already have credits with Babestationcam. If you don't have any credits, however, you will be prompted to buy some.  In other words, nothing is free.
What is Vibratoy in Babestationcam?
Vibratoy is Babestationcam's proprietary marketing term for vibrating (sex) toy, and in recent years in the cam industry, vibrating toy is not just a vibrator.  It has to be an interactive sex toy that allows third party control. The Vibratoy section lists all the girls who have turned on their Lovense interactive toy or Ohmibod vibrator that let the guys to control their toys.
How much to activate her interactive porn toys?
Babestationcams let the models to decide for themselves.
First, you need to find the girls who have the Lovense interactive toys.  Then you should check on her profile page to find out the costs. Models with Vibratoy's profiles should look like this: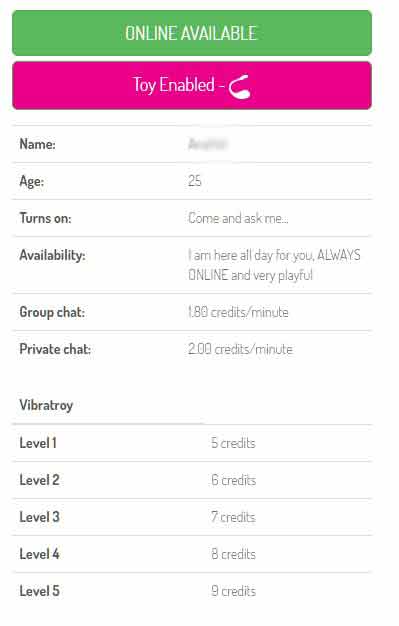 Look for the "Toy enabled" button under her profile picture. And you will also see how many credits it costs to turn on her toy at different vibration levels.
How much is one credit in Babestationcams?
One credit costs £1.09 to £1.2 (USD1.42 to USD1.57). That means in the example above, it costs £5.45 or USD7.12 to turn her interactive toy to level one, and £9.81 or USD12.81 to turn it to the maximum level 5.
It costs depends on whether you are buying a small amount of credits at a time and so it costs more, or if you buy credits in bulk it costs 10% less.  
How much is a private show?
Again, it depends on the individual models' rate. The screenshot above shows that she is offering a group chat show of 1.8 credits per minute, or 2 credits per minute for a private chat.
If you buy credits in bulk and get them at £1.09 or USD1.42 per credit, then it is £2.18 or USD2.84 per minute for a private chat on Babeststioncams.
Is there cam2cam in Babestationcams?
Yes, cam2cam is possible on Babestationcams. On their FAQ, it states that viewers can request the model to initiate the cam2cam. It is not clear that whether she is obliged to turn it on, or whether extra tipping is required.
If you enjoy showing yourself to the cam girl while chatting, no matter in a paid show or public chat, I have written an ultimate guide for c2c. Many cam sites offer cam-to-cam, some are free in the public chatroom, some costs extra in a private show and some do not. Check out my post for top tips to cam-to-cam!
How to pay in Babestationcams?
They accept payment from debit/credit cards or by phone. They don't accept gift cards like Cam4, Flirt4free, and Stripchat or cryptocurrency like Chaturbate, xcams and xlovecam.
If you pay with cards, they will appear on your bill as BSC -smthub.uk-03333350299″ United Kingdom. Got other names on your bill you don't recognize? Check my list of cams-on-your-bill.
Is Babestationcams safe?
The Babestation brand was set up in 2002. The sister website babestation.tv seems to be a big modeling company in the UK. They have studios and professional photographers to take glamour photos to help to promote their models, so it seems to be quite a big company.